Katherine Heigl Is Ageless And Romantic In The Age Of Adaline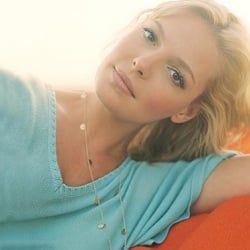 Katherine Heigl has been making good money as the queen of the rom-coms, but I'm getting the feeling she's about to start showing some of the dramatic chops that Grey's Anatomy fans have known for years. This fall's Life As We Know It may seem from a distance like another goofy romantic comedy about two people (Heigl and Josh Duhamel) thrown together in a wacky situation and falling in love, but the trailer shown for the film at ShoWest two months back suggested a more delicate and appealing dramedy. Those of you sick of watching Heigl shriek her way through broad comedies may be pleasantly surprise.
And as if Heigl already knows that Life As We Know It is her ticket, she's aiming for another drama, this one with a historical bent. THR reports that she'll star in The Age of Adaline, playing a woman born at the 20th century who stops aging after an accident. Apparently it's not he kind of accident that's out of your control, though, because at some point she meets a guy who makes it worth losing her immortality.
Yes, that's pretty much exactly what Nic Cage decides to do in City of Angels, and I think we can all join in to hope this movie turns out better than that one. Mills Goodloe and Sal Paskowitz wrote the script, but no one else is on board beside Heigl, including a director or a male lead. But any guys who think they've got a romantic streak and can keep up with Heigl probably ought to clear their calendars for the October shoot.
Your Daily Blend of Entertainment News
Staff Writer at CinemaBlend