Kathryn Hahn Joining Her Buddy Paul Rudd In Wanderlust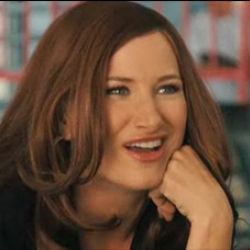 Kathryn Hahn clearly has a thing for Paul Rudd. I mean, we all do-- who can resist the man who looks exactly as effortlessly handsome as he did back in 1995's Clueless?-- but Hahn has managed to turn that thing into a career, starring opposite Rudd in two upcoming films, both the James L. Brooks comedy How Do You Know and next year's My Idiot Brother, in which Rudd plays the titular character. Now Hahn is making it a hat trick, singing on for David Wain's Wanderlust, which already stars Rudd and Jennifer Aniston.
According to Variety, Hahn will play a member of a commune visited by Rudd and Aniston's characters when they leave New York in an attempt to escape modern society. Alan Alda is already on board to play the leader of the commune, and Malin Akerman signed on a while ago in an unspecified role. The concept sounds like it could veer into really predictable territory, like Couples Retreat with hippies, but Wain has proven himself a sharp director both on out-there comedies (Wet Hot American Summer) and the surprisingly mainstream and hilarious Role Models, which would have been awful in anybody else's hands. Hey, clearly Paul Rudd trusts him, and what did I just say about all of us loving Paul Rudd? Sure he's led us astray a few times, but I'm counting on this being one of the good ones.
As for Hahn, you may remember her best from her scene-stealing support role as Adam Scott's horny wife in Step Brothers, but the funny lady has also popped up in The Holiday and The Goods and even Revolutionary Road-- the girl's got range. And with her ongoing work with Paul Rudd, good taste to boot.
Your Daily Blend of Entertainment News
Staff Writer at CinemaBlend