Keanu Reeves Is 50: Celebrate His Range With These 5 Films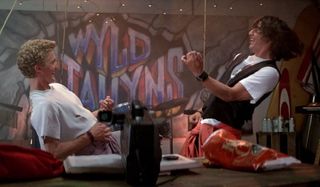 It's hard to believe, but Keanu Reeves turns 50 today. And a solid chunk of those five decades has gone toward creating movies that -- whether heralded or hated, brilliant or bonkers -- have been wildly entertaining.
To pay tribute to the star whose name is Hawaiian for "cool breeze over the mountains," we've come up with five ways to toast the wonder that is Keanu Reeves. Pick your poison (as in picture) then pair it with an on-theme treat to make tonight's dinner and a movie a perfect celebration of one of Hollywood's most fascinating and unflappable stars. Plus we'll tell you the best way to watch them now.
Bill & Ted's Excellent Adventure
Reeve's first iconic role came in 1989 when he portrayed the great Ted 'Theodore' Logan in this most excellent adventure. This time-travel comedy followed two dopey rocker teens who used a souped-up telephone booth to leap to the past to meet such historical figures as Napoleon, Abraham Lincoln, Joan of Arc and Socratic Method. It was a must-see for children of the '80s/'90s. But revisit it as an adult, and you'll not only get a head rush of nostalgia, but also be pleasantly surprised at all the jokes that flew over your head the first time round.
Highlight: When Ted blows Socrates mind by quoting Kansas, "All we are is dust in the wind, Dude." Also anytime the boys air guitar.
How To Watch It: Strap on your own air guitar. Enjoy a slurpie from Circle K (or any convenience store) and party on, dudes!
You can stream Bill & Ted's Excellent Adventure now on Amazon.
The Matrix
In 1999, Keanu Reeves blew our minds and became a science-fiction savior with Andy and Lana Wachowski's groundbreaking action epic The Matrix. Here, he stars as a computer hacker whose world is turned upside down when he meets an unexpected band of revolutionaries who reveal all he knows is a lie. The first in a blockbuster trilogy, this film launched Reeves into a new stratosphere of stardom, and is widely considered his most popular movie. 15 years later, The Matrix is still a killer thriller with dizzying action sequences.
Highlight: "I know kung fu." Of course he does.
How To Watch It: The perfect meal to go with this rich sci-fi dish are "really good noodles." But whatever noodles you prefer, don't use a spoon to eat them. There is no spoon.
You can stream The Matrix now on Amazon.
The Devil's Advocate
Before The Matrix cemented Reeves into film history, The Devil's Advocate paired him with a scene-chewing Al Pacino. Reeves stars as a hotshot Southern lawyer whose morals are challenged when he's called to New York City to be part of an affluent and influential law firm. It was a modest box office success, with decent reviews. Yet in the passing years, this fantasy drama has been mocked for its melodrama and totally over-the-top bravado. But if loving this garish thriller is wrong, I don't want to be right.
Highlight: Keanu's "Southern" accent. Listen to it come and go. Revel in its intensity and earnestness!
How To Watch It: With a friend who loves a good bad movie. A perfect pairing with this devilish treat is a big bowl of chocolate ice cream, because as the devil himself tells us that, "biochemically," chocolate gives us the same sensation as love.
You can stream The Devil's Advocate now on Amazon.
Point Break
Predating Neo or even Jack Traven of Speed, there was Johnny Utah. This Kathryn Bigelow-directed 1991 crime-thriller about an FBI agent who goes undercover in search of bank-robbing surfers has become a touchstone for male bonding, and memorably won Reeves the honor of the MTV Movie Award's Most Desirable Male. But amid the waves (both of the ocean and of co-star Patrick Swayze's crazy lustrous hair), Reeves delivered a performance charged with adrenaline and drama.
Highlight: Utah's confession: "Bodhi, this is you're fucking wake-up call, man! I am an F.B.I. Agent!"
How To Watch It: If you--like Pappas (Gary Busey)--are "so hungry (you) could eat the ass end out of a dead rhino," take a cue from this dude, and pair Point Break with a double order of meatball sandwiches. Get him two, Utah!
You can stream Point Break now on Amazon.
Side By Side
The Matrix made Keanu Reeves a kind of poster child for digital filmmaking, as well as the perfect host for this informative and insightful documentary. Written and directed by Christopher Kenneally, Side By Side aims to explain to the evolution of film stock to digital cameras in a way that is both expansive and understandable to the most casual moviegoer. At its center, Reeves thoughtfully interviews everyone from James Cameron and George Lucas, to Christopher Nolan, and Martin Scorsese.
Highlight: When David Lynch says "Keanu." There's a lot of great debate for and against the advent of digital filmmaking. But this little moment will tickle you no matter which side of this fight you take.
How To Watch It: With your cinephile friends--the ones who call directors "auteurs"--and a bottle of wine. Expect arguments of analog versus digital to follow. Add more wine accordingly. Or you can pick up some store bought chewy chocolate cookies, per Nolan's withering comparison to digital video.
You can stream Side by Side now on Netflix.
Staff writer at CinemaBlend.