Kevin James Offered Role In Six Pack Remake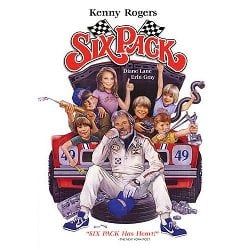 Did you see Grown Ups? Does it make you wonder how Kevin James is still getting movie offers? I'll tell you the reason. Because once a guy is recognizable, and takes roles in terrible movies that somehow put butts in the seats, that's literally all that matters when filmmakers start casting. Nothing else even comes close. Was Kevin James once a funny comedian? I guess. But his movie resume reads like a rundown from the local dump. He might be getting ready to add another one to his list that already includes cinematic wonders lie Paul Blart: Mall Cop and I Now Pronounce You Chuck and Larry. Pajiba is reporting James has been offered a role in the remake of the 1982 comedy Six Pack, originally starring Kenny Rogers and Diane Lane.
Six Pack focuses on NASCAR driver, Brewster Baker, who befriends a group of car-stealing orphans. They are running a scam for the local sheriff who eventually locks Brewster up. The kids break him out. Hilarity ensues. John Coveny and Hunt Baldwin (both writers for The Closer) are rewriting the script to most likely include more double entendres and falling down. Tom Dey (Marmadue, yes that Marmaduke) is on board to direct.
Look, whatever I think of the guy's acting prowess, Kevin James and the movies he chooses get people to the theaters. Before Grown Ups, his previous two flicks each made over $100 million at the box office. Six Pack will probably do the same. Just don't expect it to be any good.
Your Daily Blend of Entertainment News
Doug began writing for CinemaBlend back when Terminator: The Sarah Connor Chronicles actually existed. Since then he's been writing This Rotten Week, predicting RottenTomatoes scores for movies you don't even remember for the better part of a decade. He can be found re-watching The Office for the infinity time.