Kevin James Had A Difficult Time Filming Hubie Halloween In Those Ridiculous Sunglasses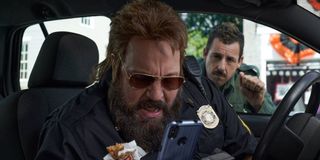 Kevin James loves working with Adam Sandler in his movies. For him, it's so fun it's like going back to summer camp. But in his latest foray in Adam Sandler's Hubie Halloween, not everything was hilarious and easy sailing. In fact, we recently learned those ridiculous sunglasses his character wears made it difficult for him when filming.
Leave it to Adam Sandler to give his characters over-the-top quirks that make an actor's job just a little bit harder. In Hubie Halloween, Kevin James' likes to wear sunglasses, including at night. As you can imagine, that would make things hard to see. So when CinemaBlend's own Jeff McCobb asked Kevin James if that little detail was scripted or not, Kevin James confirmed it was all Adam Sandler, but also admitted it made filming tough:
Yikes. That does not sound fun, or safe, especially driving the squad car part. Still, it's hard to deny having Kevin James' character wear sunglasses at night is a solid gag for an Adam Sandler comedy. I wouldn't expect any less from the Sandman.
In Hubie Halloween, Adam Sandler plays Hubie Dubois, a Halloween fanatic in Salem, Massachusetts who frequently reports strange things he's seen to Kevin James' bearded character, Sergeant Steve Downey. Steve Downey dismisses Hubie whenever he "cries wolf," but when something spooky does actually go down, it'll be up to Hubie to be the hero and save Halloween.
Kevin James and Adam Sandler have been long-time collaborators. Whether Kevin James appears in Adam Sandler's comedies or Adam Sandler produces a Kevin James movie under the Happy Madison banner, they've built a solid working relationship over the years. Part of that great chemistry is how much fun it is to work with Sandler.
Kevin James, Maya Rudolph, Tim Meadows, and other frequent Adam Sandler alums have all admitted it's a blast working for the comedian on his movies. For them, it's like a big party where everyone knows each other and they're constantly laughing through the whole experience. Although there are still challenges that come with every film set.
If you're curious about Adam Sandler's latest, you don't have to wait to find out; Hubie Halloween just released on Netflix. Critical reviews seem par for the course, considering Adam Sandler's track record on the streaming service. According to CinemaBlend's own Eric Eisenberg, you might have to go in with low expectations. In his review, he gave the film 2 ½ stars and said:
For more movie news, be sure to stay tuned to CinemaBlend.
Your Daily Blend of Entertainment News
Your Daily Blend of Entertainment News
Thank you for signing up to CinemaBlend. You will receive a verification email shortly.
There was a problem. Please refresh the page and try again.