Kevin James, King Of The Weekly TV Format, Talks Switching To Binge-Watching For New Netflix Series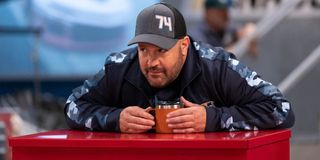 Not only has the television medium changed over the past few decades, but the way audiences consume it has evolved as well. This is mostly due to the rise of streaming, which has helped lead to the binge-friendly model, in which an entire season of a show is released at once. Not only is this a change for consumers, but it's also new for an actor like Kevin James. The actor has been a king of network TV for some time, so how does he feel about fans being able to binge-watch his latest show, Netflix's The Crew?
Before The Crew was released on Netflix, I had the opportunity to speak with Kevin James about his work on the new comedy and, as we chatted, we discussed the fact that he show's first season is being released at once, a change from the actor's past work. When I asked for his thoughts on how he view this release format compared to the weekly release model, he provided some keen thoughts:
It sounds like Kevin James is just like many of us when it comes to waiting every week for a new episode of our favorite show. Just when you thought James couldn't get any more relatable, he reveals that even he gets impatient when he has to wait for another episode of a TV series. While he does still appreciate the weekly format, he also likes the idea of fans being able to watch the season at their own pace. And as he mentions, viewers do get better acquainted with the characters if they go a bit faster.
Binge-watching has become heavily embedded into our TV-viewing culture at this point, thanks largely to streaming services. Netflix in particular has a number of shows that fans can't help but zoom through. And if you're like me, these may be series like Stranger Things or Cobra Kai.
When it comes to Netflix's The Crew, the binge approach wasn't the only area of transition for Kevin James, though. The actor had to learn a thing or two about NASCAR in order to prepare for his new workplace comedy, and it appears he learned a few key facts about the world of professional race car driving.
Ultimately, it will be up to audiences to decide whether they want to race through The Crew Season 1 or progress at a steadier speed. Either way, they'll still be able to enjoy the adventures of Kevin James' Kevin Gibson and his ragtag team of NASCAR colleagues.
You can check out Netflix's The Crew now (opens in new tab), alongside other great content on the streamer.
Covering superheroes, sci-fi, comedy, and almost anything else in film and TV. I eat more pizza than the Teenage Mutant Ninja Turtles.
Your Daily Blend of Entertainment News
Thank you for signing up to CinemaBlend. You will receive a verification email shortly.
There was a problem. Please refresh the page and try again.