Kevin Smith Loses His Dick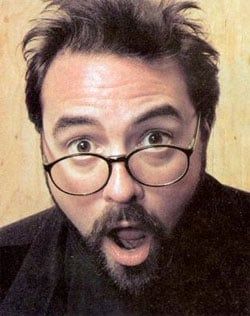 It's only been a day since news of Kevin Smith's switch from indie darling to big studio director broke, and he's already being watered down. When first reported yesterday, word was that his Bruce Willis, Tracy Morgan starring caper comedy would be called A Couple of Dicks. Perfect right? Kevin Smith knows his way around a dick joke. Not so fast.
This evening Variety has finally gotten around to reporting the story, only they claim the movie's been re-titled with the most boring name in the history of cinema. It's now called A Couple of Cops. Now there's a movie title that gets you to sit up and scream "I want tickets!" Because it has not just one cop, but two of them. Two is always better than one.
Maybe this is a good thing for Smith. A lot of people blamed the tepid box office performance of Zack and Miri Make a Porno on the use of the word Porno in the title. For you and me it was a draw, but not so much for the average, easily frightened, American Idol dulled movie crowd. Clearly people want boring movies with boring titles. Kevin Smith has spent his entire career delivering interesting movies with awesome titles and only a few of us showed up to see them. Maybe it's time to give the people what they want, and what the people seem to want is a good nap.
While we're at it, let's filter all of Kevin Smith's movie titles through the brains of pliable Dancing With The Stars fans. Jay and Silent Bob Take a Trip? Zack and Miri Make a Movie. Attempting To Date a Woman Named Amy? Clerks? Wait, that one actually works as is. But we'd better get rid of that Roman numeral at the end of Clerks II. People might think those are letter "I's".
All kidding aside, there's no reason to panic. It's a lame title and a bitch marketing move to pander to your grandparents. Just because the title's a snooze doesn't mean the movie will be. If it gets people in seats, who cares what they call it? Let's see what Kevin can do when backed by a major studio.
Your Daily Blend of Entertainment News