Kung Fu Panda 2 Gets Jean-Claude Van Damme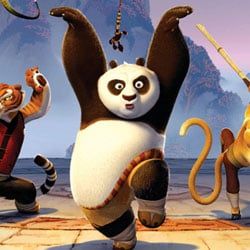 Kung Fu Panda's sequel The Kaboom of Doom is moving forward and they've added an eclectic group of new cast members. DreamWorks Animation says Michelle Yeoh, Jean-Claude Van Damme, and Victor Garber will do voices in the sequel. Already on board are returning cast members Jack Black, Lucy Liu, Dustin Hoffman, Jackie Chan, Seth Rogen, Angelina Jolie, David Cross, and James Hong along with Gary Oldman as the movie's villain, a peacock named Lord Shen.
Michelle Yeoh is a soothsayer goat. Van Damme is Master Croc, perfect animal casting for the Muscles from Brussels. Victor Garber is Master Thundering Rhino.
The original Kung Fu Panda was a work of art, easily DreamWorks Animation best film ever and the first hint we've had in awhile that they might be able to compete with the quality of Pixar's movies. That trend continued this year with How to Train Your Dragon and there's reason to hope that maybe, now that they've gotten those horrible Shrek sequels out of the way, DreamWorks might finally be getting it's act together. Kung Fu Panda: The Kaboom of Boom could be good.
Yet nobody knows how to run a franchise into the ground better than DreamWorks. Shrek was pretty great too and it became increasingly less great with every subsequent movie they squeezed out of it. Kung Fu Panda is a brilliant animated film, I'd hate to see it suffer a similar, dismal fate.
Your Daily Blend of Entertainment News
Thank you for signing up to CinemaBlend. You will receive a verification email shortly.
There was a problem. Please refresh the page and try again.