La Jetee Filmmaker Chris Marker Dead At 91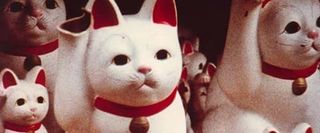 Chris Marker, the experimental French filmmaker famous for the sci-fi short La Jetee (which inspired Terry Gilliam's Twelve Monkeys), died today at the age of 91. In the words of my friend and Operation Kino co-host David Ehrlich said in his own remembrance today, "I was half-convinced that he would outlive us all." In his enigmatic, thought-provoking and utterly unique films Marker expressed a quiet confidence and imagination about the world and the way it worked that made him seem beyond a regular human. To see someone like that die, especially after such a long life and outliving many of his artistic contemporaries, is more shocking than it is when most 91 year olds pass on. We know so little about his personal life-- Marker was notoriously, sometimes trickily private-- that his work is pretty much the only way to know him at all.
Many of Marker's most famous films, including La Jetee, are available to be viewed in their entirety online. Before today I had only seen Sans Soleil, so I"m planning to rectify that by watching La Jetee below. But the best way to honor a departed filmmaker is not to watch his work online for free, of course. Marker's career is well-presented by the Criterion Collection (opens in new tab), and you can also find many of his films at Hulu Plus (opens in new tab).
La Jetée (1962) (opens in new tab) from Augustus Brightman (opens in new tab) on Vimeo (opens in new tab).
Your Daily Blend of Entertainment News
Staff Writer at CinemaBlend
Your Daily Blend of Entertainment News
Thank you for signing up to CinemaBlend. You will receive a verification email shortly.
There was a problem. Please refresh the page and try again.