Learn How To Escape Prison With This The Next Three Days Poster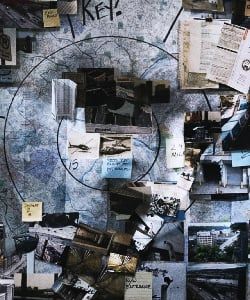 I'm a sucker for a poster that is intriguing and artistic. Called me old fashioned, but a movie poster doesn't have to have a giant damn head floating in the middle of it to be effective. Enter Lionsgate and Paul Haggis. This new poster for Haggis' The Next Three Days creatively uses a shot from the trailer of a carefully mapped out escape plan and integrates a bit of trickery to make it feel like the poster is looking back at you. It's solid marketing.
The film itself follows Russell Crowe on a quest to free his wife, Elizabeth Banks, from prison after she is wrongfully accused of murder and sentenced to twenty years on lock down. A trailer was released earlier this month and, as you probably have guessed, it looks pretty effing intense. You will probably be thrown right the hell off, though, when Haggis tries to convince you that Russell Crowe doesn't know where bullets go into a gun. And not even a fancy gun...it's a Glock. I get that he's a family man with no need for that knowledge, but seriously, everyone can load a pistol.
Below is the poster straight from Lionsgate, and below that is the trailer if you happened to have missed it.
Your Daily Blend of Entertainment News
Thank you for signing up to CinemaBlend. You will receive a verification email shortly.
There was a problem. Please refresh the page and try again.