Lindsay Lohan Making Her Comeback In Porn And Slashers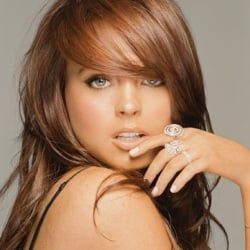 Two weeks ago it was announced that drug vortex Linday Lohan would be starring as Linda Lovelace, star of the infamous porno Deep Throat, in Inferno, which will chronicle Lovelace's work as an anti-porn activist. Today, Bloody Disgusting learned that the Parent Trap double star has signed on to Ryukei Kitamura's next film, promisingly titled Black Friday 3D.
While the film is said to be about a brother and his friends seeking revenge against a ruthless serial killer, I'm going to just go on thinking it's about rabid day-after-Thanksgiving shoppers trampling and stabbing each other so they can be the first ones to the Cabbage Patch Kids rack. An infinitely better idea if I do say so myself. Hollywood, that one's on me. No word on who Lohan will play in Kitamura's film, but they've already broadcast that the film won't be worth a damn by putting 3D right in the title. Never a good sign.
Kitamura gave us the surprisingly excellent Bradley Cooper starrer Midnight Meat Train as well as cult classic Versus, so counting out this film completely based on one casting decision might be jumping the gun a smidgen. Lohan is clearly mounting her comeback, but it's unlikely she'll get too far with it until she stops taking roles involving famous blowjobs. Perhaps she should listen to the advice CB's own Perri Nemiroff has to offer.
Lohan starts her "don't call it a comeback" tour with Machete September 3rd, and we'll just have to wait and see where it goes from there.
Your Daily Blend of Entertainment News