MacGyver Becoming A Movie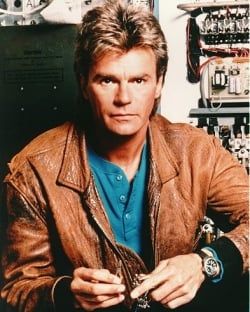 "We think we're a stick of chewing gum, a paper clip and an A-list writer away from a global franchise." That's not exactly a line that inspires confidence when coming from a major Hollywood studio, especially New Line, the studio that supposedly died last summer. But none of the executives behind a planned reboot of MacGyver as a feature film seem remotely worried-- maybe they've inherited some of the confidence of their main character.
THR is reporting that Raffaelle De Laurentiis, Dino's daughter, is producing with Martha De Laurentiis and MacGyver creator Lee Zlotoff. There's no writer yet, and the article doesn't mention whether or not they're tapping Richard Dean Anderson to reprise his iconic role. Anderson has proven more than willing to revisit the character on SNL's MacGruber sketches, but you've got to wonder whether a studio wants to kick off an action franchise with a 59-year-old in the lead.
In retrospect, we probably all should have seen this coming. MacGyver remains an enduring cultural figure more than 15 years after the show went off the air, and we've learned time and time again that nothing good remains dormant very long. There's a lot of potential in the basic concept, and a slight chance that they won't destroy the magic of it entirely. Anyone else out there holding out hope that this won't be complete sacrilege?
Staff Writer at CinemaBlend
Your Daily Blend of Entertainment News
Thank you for signing up to CinemaBlend. You will receive a verification email shortly.
There was a problem. Please refresh the page and try again.