15 TV Stars Who Exited Shows Controversially In The Last 5 Years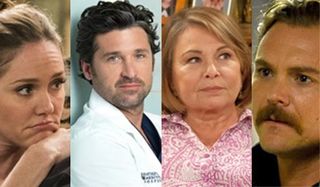 Some of the juiciest drama happens behind-the-scenes of TV shows. Offhand, you can probably think of any number of actors/actresses from Downton Abbey to Game of Thrones and beyond with shocking exits. Sometimes the actors leave under let's say cloudy conditions, and other times it's the showrunners who create controversy with the writing of the exit. It's kind of amazing to think that we've had so many such departures just in the past five years. This list only scratches the surface -- starting with the exit that should be coming up next...
George Eads, MacGyver
George Eads is leaving MacGyver, with the show setting up an exit for his character Jack Dalton in the Friday, February 1 episode. Eads reportedly had an on-set altercation of some kind back in October and subsequently stormed off the Atlanta set. When he returned, he asked to be released from his contract, reportedly due to a desire to spend time with his daughter in Los Angeles. Eads also left a different CBS show under similar circumstances. He left CSI after 15 seasons, one season after an on-set problem with one of the writers. It seemed like he might quit, but he took a leave of absence and came back for another season before being written off.
Clayne Crawford, Lethal Weapon
Clayne Crawford's departure from Lethal Weapon was ugly from every angle. He was cut from the show before Season 3 due to alleged misconduct. The show decided to kill off Martin Riggs and give Damon Wayans' Roger Murtaugh a new partner. Some of Crawford's bad behavior was caught on camera, including clashes with Wayans, who didn't come across so good himself. In one instance, Crawford had a meltdown over filming scenes at an L.A. area pool. After that, he agreed to undergo counseling. Ultimately, his character was killed off and -- after a time jump -- Seann William Scott stepped in as the new co-lead Season 3. In late 2018, Wayans said he planned to leave the show after Season 3, but that may not be the case anymore. Then again, Fox has yet to renew the show for a Season 4, so it may be a moot point.
Thomas Gibson, Criminal Minds
Thomas Gibson's character Aaron Hotchner was written off Criminal Minds after the actor had an on-set altercation during production on Season 12. Gibson was directing an episode and had a heated incident with the episode's writer, allegedly kicking at him. He was fired. Hotch, a main character of the show, was written to have taken a consulting job off screen. Later, that was said to be a ruse, and he went into witness protection to get away from Mr. Scratch. Hotch could've returned to the BAU later, but fans were told that he decided to retire and be a full-time parent to Jack. It's not clear if Hotch will return for the Criminal Minds finale. That wasn't the first time something like that had happened; in 2010, Gibson allegedly pushed an assistant director, and had to take anger management counseling.
Danny Masterson, The Ranch
Danny Masterson was fired from Netflix's The Ranch during filming for Season 3, after five women came forward with rape allegations. His character, Rooster, appeared to leave town at the end of Part 5. But that wasn't the end of his story. When Part 6 premiered, Beau Bennett (Sam Elliott) got a call that Rooster's motorcycle was found at the bottom of a cliff. Apparently he went into a curve too fast, his brakes locked up, and he went over the guardrail. Rooster's body wasn't found, but he was presumed dead, and the family held a memorial for him. So they killed Rooster off, but also left the door open for the character. Danny Masterson asked fans to keep supporting The Ranch, even with Rooster "MIA."
Roseanne Barr, Roseanne
Roseanne had a hugely popular revival Season 10 when it returned in 2018. But Roseanne Barr has never been shy with her opinions, and she took a tweet a step too far for ABC. Since it was Roseanne's show, with her name on it, when ABC wanted to fire Barr after a racist tweet, the network decided to cancel the entire show. ABC boss Channing Dungey called Roseanne's tweet about Valerie Jarrett "abhorrent, repugnant and inconsistent with our values." The rest of the Roseanne cast, who were basically collateral damage in the drama, returned for a spinoff called The Conners.
Kevin Spacey, House of Cards
Kevin Spacey's personal house of cards came crashing down after Star Trek: Discovery and Rent star Anthony Rapp accused Spacey of trying to have sex with him when Rapp was just 14 years old. After that, several members of the House of Cards also came forward with stories about Spacey's alleged misconduct. Netflix decide to cut ties with Spacey, and cut him out of the final Season 6 entirely. Robin Wright's President Claire Underwood was instead the lead of the shortened final season. The show killed off Frank Underwood, and also buried the character somewhere he would never want to be. Spacey later revived his character for a bizarre holiday video called "Let Me Be Frank."
Erinn Hayes, Kevin Can Wait
This casting drama started when it was announced that Kevin James' former King of Queens co-star Leah Remini would be joining Kevin Can Wait full-time in Season 2. That news was followed by reports that Erinn Hayes was fired after Season 1. The show decided to kill off her character, Donna, wife of Kevin's lead character. That allowed Season 2 to focus on Kevin's relationship with Remini's Vanessa Cellucci. The change didn't sit well with fans, and Hayes didn't seem to be happy with it either. CBS decided to cancel the whole show after Season 2 anyway.
Connie Britton, Nashville
It was a huge shock to Nashville fans when Rayna James died due to injuries from a car crash. It seemed like Rayna was going to be fine ... until she wasn't. Fans were devastated. What was Nashville without Rayna James? Connie Britton said leaving was her decision. She felt it was time to exit Nashville after it found a new home at CMT for Season 5. But the show continued for another season on CMT, and Britton even brought back Rayna back in the finale for two scenes -- a flashback and the big musical number at the end.
Sophia Bush, Chicago P.D.
Sophia Bush left Chicago P.D. after playing Det. Erin Lindsay for four seasons. She was tight-lipped about her reasons at first, and only opened up more over time, talking about her unhappiness on the set. Bush said (via TVLine) that she experienced "a consistent onslaught barrage of abusive behavior." She said producers initially dismissed her complaints, and they even seemed irritated that she was asking them to investigate negative conditions on set. She gave them notice that if things didn't change by the end of Season 4, she'd quit. She threatened to sue the network and write an op-ed on why she was unhappy, but NBC ultimately allowed her an early exit from her seven-season contract.
T.J. Miller, Silicon Valley
T.J. Miller's Erlich Bachman was one of the main characters of HBO's Silicon Valley. When Miller announced he'd be leaving the show after Season 4 wrapped, plenty of reasons flew around as to why. Initially, Miller said he wanted to do more things like The Emoji Movie and have time to develop animated features. After that, more stories started coming out about his allegedly unprofessional behavior on set. He also reportedly didn't get along with star Thomas Middleditch. The more that came out, the more toxic and mutual the departure sounded.
Stana Katic, Castle
Stana Katic played co-lead Kate Beckett on Castle, so it was baffling to fans to hear she'd be leaving after Season 8 -- and not by her own choice. Nathan Fillion's contract was renewed, and he and some of the other stars were ready to return for Season 9. But how could Castle continue without Beckett? Rumors flew as to what happened, from recycled talk of tension between Katic and Fillion to discussion of various contracts. There was huge fan outcry, and ABC ultimately decided just to end the show with Season 8. Two different endings were filmed -- one with a cliffhanger if Season 9 had happened, and the happy ending that fans got to see. But the behind-the-scenes drama toward the end of the show's run was still fresh to fans, and soured the happy ending a bit.
Josh Charles, The Good Wife
So much of The Good Wife was the love story between Alicia Florrick (Julianna Margulies) and Will Gardner (Josh Charles). So it was a massive shock to see Will gunned down inside a courtroom in Season 5, Episode 15. Will was dead. Josh Charles had wanted to leave the show, and the creators wrote an open letter to fans to try and justify the end of Will's story. Charles' exit wasn't even the only dramatic one for the legal show. You may have heard about the rumored tension between Margulies and Archie Panjabi, who played Kalinda Sharma. When Panjabi left in Season 6, the show filmed a final scene for best friends Alicia and Kalinda. But there was speculation that the stars filmed their respective sides of the scene separately.
Patrick Dempsey, Grey's Anatomy
Grey's Anatomy is now in Season 15 but fans are still pissed about Derek's death. There was already behind-the-scenes drama suggesting Patrick Dempsey would be leaving the show, but the way they wrote out his character in Season 11 was just brutal. Derek had stopped to help some people in a car accident, and ended up hit himself. He was rushed to a hospital, but not Grey Sloan, and his doctor made a mistake that ended up in Derek's death. Shonda Rhimes defended the decision to kill off Derek, saying it was better than having him just disappear on Meredith Grey. At least this preserved their love story. Some fans said they would stop watching after Derek's death. Even some current viewers still don't want Mer to be with anyone else.
Columbus Short, Scandal
Columbus Short brought his own scandal to Scandal. He played Harrison Wright on the first three seasons, but confirmed he wouldn't return for Season 4. Harrison was ultimately killed in the Season 3 finale. Short opened up later about the personal drama that led to his departure, saying, "I'll be candid. I was struggling with drugs. I had a lot on my plate, and you know, I was using unhealthy ways to kind of self-medicate and deal with a lot of heavy duty stuff in my life." He was jailed after getting into a fight in a restaurant, and his wife filed for divorce following a misdemeanor spousal battery charge. Short said Scandal creator Shonda Rhimes and the cast knew about his drug and alcohol problems and tried to protect him and hold him down. "And that was one of the real reasons – they just wanted me to get my stuff together."
Chandler Riggs, The Walking Dead
The Walking Dead loves a shocking exit, but if there was any character that seemed safe, it was Carl Grimes. Chandler Riggs apparently though he'd be safe for a while too, so it was shocking for him as well as fans when Carl was killed off halfway through Season 8. Riggs said it was "devastating" for him and his family, especially since he had just bought a house in the Atlanta area where Walking Dead films. Riggs' father also spoke out on social media, slamming showrunner Scott M. Gimple for firing Chandler two weeks before the actor's 18th birthday, despite telling him they wanted him on the show for the next three years. The very next season, the show's main star, Andrew Lincoln, also exited the show -- although this time it was by choice, and AMC didn't kill off Rick Grimes, the network is giving him his own set of films.
Those are just a few of the controversial departures from the past few years. There are more -- and many more if we went back even further in time. At this point, we've just started the second month of 2019, but it will surely add more names to the list. That's the way of the TV biz. For now, keep up on everything airing with our handy midseason 2019 schedule.