Marvin The Martian Tries To Destroy Christmas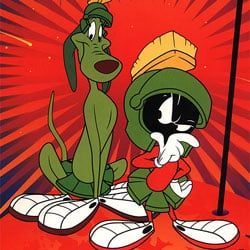 Everyone's favorite testy little alien will try to land on the big screen yet again. After news of a Marvin the Martian movie from July 2008 dissipated, the L.A. Times reports that Marvin will come to life in his own feature film after all. Well, not really to life. Similar to Alvin and the Chipmunks, Marvin will be created using CGI and find himself in the company of a cast of live action actors.
Warner Bros. and producer Alcon Entertainment have recruited Alex Zamm to direct and Paul Kaplan and Mark Torgove to pen the script. As for the lucky guy who gets to voice Marvin, Mike Myers' name is floating around the rumor mill.
We first met Marvin in the 1948 cartoon short "Haredevil Hare." After Bugs Bunny reluctantly soars into space, he bumps into Marvin amidst his effort to destroy the earth. Marvin will be up to his same old tricks in the film. Marvin lands on Earth with a plan to destroy Christmas, but things don't go according to plan and he finds himself trapped in a gift box. Work will get rolling on some of the graphics in 2010 to put the film on track for a 2011 holiday season release.
Marvin is an excellent candidate for the CGI treatment. My only issue with the project is that the plot sounds awfully thin. Of course the concept is only in the early stages of development, but I can't imagine where Kaplan and Torgove could take it. And what about Commander K-9? Marvin needs his dog!
Your Daily Blend of Entertainment News
Staff Writer for CinemaBlend.