Matthew Lillard Joining Clint Eastwood In Trouble With The Curve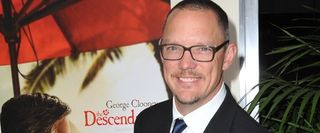 It took me fully half of Alexander Payne's The Descendants to realize the actor playing Brian Speer, the man on the other side of the affair at the center of the film, was none other than Matthew Lillard. The former Scooby Doo and Scream star would seem like an odd romantic rival for George Clooney, but that was kind of the magic of the casting-- Lillard, formerly a goofball teen actor, had emerged as a somewhat handsome and appealing middle-aged man. And with The Descendants getting plenty of awards attention, Lillard is enjoying a career boost for his efforts as well.
As reported by EW, Lillard is in negotiations to join Clint Eastwood in Trouble WIth the Curve, both of them playing baseball scouts. The "trouble" in the title may refer to the fact that Eastwood's character is slowly going blind, even while on a trip to Atlanta to evaluate a new player. Already on board is Amy Adams, who joined the production in November to play Eastwood's character's daughter. She actually joins her dad on the scouting trip, which means the story may focus on these three actors dealing with each other on the road. EIther way it's sounding like a good, high-profile role for Lillard, whose career seemed completely over not even a year ago. It's amazing what a good role in a movie with great buzz can do for you. Eastwood won't be directing this one, handing over the reins to his longtime producer and collaborator, Robert Lorenz.
Lillard's upcoming IMDB credits promise a few more releases from him in the coming year or so, including From The Head, Home Run Showdown and Deep Dark Canyon. None are likely to be as high-profile as Trouble WIth the Curve, though, so keep an eye out for that one in particular.
(Matthew Lillard photo via Featureflash/Shutterstock (opens in new tab))
Staff Writer at CinemaBlend
Your Daily Blend of Entertainment News
Thank you for signing up to CinemaBlend. You will receive a verification email shortly.
There was a problem. Please refresh the page and try again.