Meet Hollywood's Secret Chinese Marketing Weapon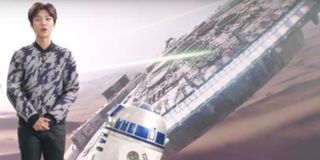 Over the last few years China has turned into a major cinematic territory. If a studio can find the perfect way to market a film in the country they can add dozens upon dozens of millions of dollars to their gross. Hollywood is still fine tuning its approach to appealing to Chinese audiences, but there is one man who is turning into a red hot commodity when it comes to marketing in the country: Lu Han.
It's not really surprising that, as Deadline writes, the 25-year-old is being sought after by studios to help boost their films in the country. He was previously a member of the Chinese/South Korean pop band EXO. Unfortunately, for the band's fans and music in general, probably, he exited EXO in 2014. But rather than wallowing in the past, Lu Han has since become a successful actor, as well as solo artist, and he has achieved meteoric success and a huge public influence.
In fact, he has 12 million followers on social media site Weibo, while he also holds the Guinness record for the number of comments on a single post. Because of his huge outreach to fans, studios have tapped him to help promote their films, and Disney and Lucasfilm brought Lu Han on board to assist them in their promotion for Star Wars: The Force Awakens, which is due out in China on January 9, 2016.
While they already placed 500 Stormtroopers on The Great Wall and released the previous six films from the Star Wars franchise digitally to get people amped up for The Force Awakens, they've now turned to Lu Han to really strike a chord with the potential audience.
Not only have they unveiled Lu Han as Star Wars: The Force Awakens' Middle Kingdom Ambassador – a title that sounds so vague that it's still alluring – but he's also remixed his new song, "The Inner Force," and released a music video that correlates to Star Wars' publicity campaign. In fact, Lu Han has already become best friends with R2-D2.
It doesn't stop there though, because Lu Han has already released a music video Kung Fu Panda 3, too. Directed by Raman Hui, who earlier this summer oversaw Monster Hunt, the highest grossing movie of all time in the China, "Deep" was part of the promotional push that also included Lu Han posing on the poster for Kung Fu Panda 3.
But why is Lu Han deemed so integral to cracking China? Well, audiences are becoming increasingly younger, and because of his presence he can instantly connect with millions upon millions of them. This doesn't just stop at China though. Lu Han's appeal has become international. So much so that his next role will see him star opposite Matt Damon in The Great Wall, directed by Zhang Yimou. Who needs Harry Styles?
Your Daily Blend of Entertainment News
Thank you for signing up to CinemaBlend. You will receive a verification email shortly.
There was a problem. Please refresh the page and try again.