Meet Toy Story 3's Big Baby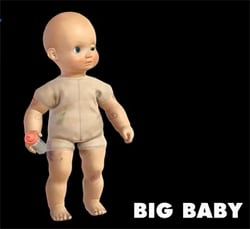 It seems we can't go a week without Pixar introducing us to a new character from its upcoming threequel, Toy Story 3. Mr. Picklepants, Dolly, Bookworm--there's just too many to keep straight, and now Upcoming Pixar has some details on another brand new character, Big Baby.
Big Baby is a lovable kid's doll who towers over all the other toys at a whopping 18 inches tall. He sports a yellow onesie, has working eyes that blink, and even drinks from a milk bottle filled with magical disappearing liquid. But there's one trait about Big Baby that caught my eye: he's flame retardant. Most doll would melt down to mush if they were stuck in a fire, but not Baby. I can only speculate because I have not seen the movie like our own Katey Rich, but if he's fire proof it'd be a waste to not have him doing some heroics in a scene of flames. Just an idea.
Also, you'll notice just how much Baby's head resembles the mutant erector spider-leg enhanced Baby head from the first film. Could this come into play? More than likely. Check out the 360 character turnaround below, head over to Upcoming Pixar for the rest of the details, and keep your schedule clear on June 18th.
Your Daily Blend of Entertainment News