Mel Gibson Movie Incites Riot At A Mexico Prison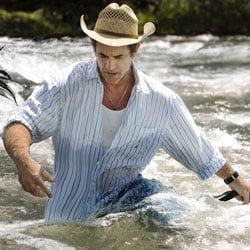 Did Mel Gibson really think he'd get a warm welcoming for displacing inmates at the Ignacio Allende prison in Veracruz? Earlier this month we told you about Gibson's plan to travel to Mexico's Gulf coast state to shoot a movie at the facility in January. Veracruz Gov. Fidel Herrera was thrilled to vacate a portion of the prison "because a grand production will be filmed there with our friend, the actor and producer Mel Gibson." Prisoner relatives did not share his sentiment.
As reported by the AP, 300 family members protested the filming holding signs that read 'No transfers to make a movie' in fear of their loved ones being transferred making visitation far more difficult. The prison director claims the riot is unfounded. Gerardo Duran explains the upheaval was caused by mere rumors and that no plan to relocate anyone was made. Hopefully someone passes that message along to the rightfully concerned families.
As for the film itself, we're still not quite sure what it is. About two weeks ago it was announced that Gibson is starring in Adrian Grunberg's How I Spent My Summer Vacation to be shot in Veracruz, Mexico. No connection was made between this film and the film to be shot at the prison, but I'd bet it's the same production.
Your Daily Blend of Entertainment News
Staff Writer for CinemaBlend.