Michael Cera Teases Superbad 2?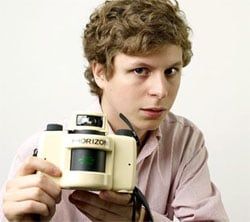 Many people seemed to like Superbad and among them, it would seem, is the movie's star Michael Cera. And he doesn't just press junket like it either, he like likes it. So, for that matter, does his buddy and co-star Jonah Hill. They like like it so much they may want to do another one.
Michael Cera seems to have a Twitter feed and the feed has recently been used to tease the prospect of a Superbad sequel. Late last week this was randomly posted: "Decided i'm gonna contact Jonah and Jason tomorrow. See what they think about doing a movie. Maybe, Just an idea, but maybe superbad 2." Today he followed those 140 characters up with 140 more which said, "I contacted Jonah. He thought it was a good idea for a superbad 2. I will let you know what's going on with that in the next few days!"
Could be something he's really doing or he could simply be playing the part of Michael Cera: merry, dry-witted prankster who likes yanking people's chains to see how many movie bloggers he can get to report false rumors. For that matter, no one seems entirely sure that this really is Cera's twitter feed. Several different websites are reporting it as the real deal, but fellow celebrity twitterer and occasional Michael Cera co-star Kate Dennings says through her Twitter: "I don't think @Michael_Cera is the real Michael Cera. In fact I'm 100% positive. Sorry to crush any bubbles."
Bottom line, this whole thing stinks. We'll update you when we have something more concrete.
Your Daily Blend of Entertainment News