Michael Fassbender Reuniting With Shame Director Steve McQueen For 12 Years A Slave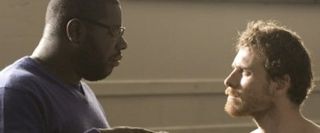 Michael Fassbender didn't get his recent mega-fame or financial success thanks to his work with British auteur Steve McQueen-- that's more thanks to his role in X-Men: First Class and Quentin Tarantino's Inglourious Basterds-- but we do have McQueen to thanks for Fassbender's current career. The actor was virtually unknown when he starred in McQueen's first film, Hunger, and went on from there to snag roles in increasingly large indies that led directly to him playing Magneto. This fall Fassbender and McQueen reunite for the searing sex addiction Shame, which already wowed audiences at the Toronto International Film Festival and New York Film Festival and opens in theaters this December.
And now, to no one's surprise but to the delight of anyone who's seen their films, Fassbender and McQueen are going to make it a hat trick together. Variety reports that Fassbender is set to star with Chiwetel Ejiofor in 12 Years A Slave, the true story of a free black man living in New York who was kidnapped during a drip to Washington, D.C. in 1841 and spent, well, 12 years as a slave in Louisiana. Fassbender's role isn't specified, but if it's a lead role it seems fair to assume he'll play the slaveowner who captures Ejiofor's character, Solomon Northrup. McQueen co-wrote the script with John Ridley, marking a return to stories about true life-- Hunger was based on the Irish prison protester Bobby Sands, while Shame is a fictional tale.
If you've liked Fassbender's performances in X-Men, Jane Eyre, Inglourious Basterds or anything else, give Hunger a watch-- it's difficult and often physically painful to see, but a pretty incredible filmmaking debut for McQueen, and a display of everything Fassbender is capable of as an actor in a very short run time. For more on Shame, an equally difficult film to watch but maybe even better than Hunger, you can read my review from Toronto.
Staff Writer at CinemaBlend
Your Daily Blend of Entertainment News
Thank you for signing up to CinemaBlend. You will receive a verification email shortly.
There was a problem. Please refresh the page and try again.