Michael Keaton And Michelle Monaghan To Star In Penthouse North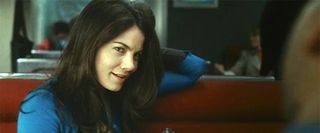 The Toronto International Film Festival (alias TIFF) is not simply a place to showcase completed films, but also to shop films currently in development. Such is the case with Penthouse North, a psychological thriller which is set to star Michelle Monaghan and Michael Keaton according to The Hollywood Reporter. The film will begin production in Ottawa in November. The plot of Penthouse North will revolve around a criminal (Keaton) who torments a photojournalist (Monoghan) while trying to obtain a fortune hidden in the penthouse in which she lives. Monaghan's current film Machine Gun Preacher, co-starring Gerard Butler, is currently playing the festival.
It's about damn time Michael Keaton landed a starring role in a film again. Keaton hasn't headlined a film since 2005's White Noise. Since then he's been popping up in supporting roles and cameos as well as voicing animated characters for Disney's Cars and Toy Story 3. He's one of my favorite actors who has proven himself not only in the realm of comedy, we all remember his dynamite performance in Beetlejuice, but in more serious roles as well. He was great in Desperate Measures, Jackie Brown, and I even enjoyed his turn as Batman. He proved to be one of best aspects of The Other Guys and his Ken was my favorite new addition to the Toy Story roster. I am incredibly excited to see him play a psychotic villain, though I hope Penthouse North turns out to be better than 1990's Pacific Heights.
Of course that's not to undersell Michelle Monaghan, as she too is immensely talented. I'm sorry to say I haven't yet seen Source Code, but Kiss Kiss Bang Bang is one of my favorite films, and her neo film noir lady in red character plays beautifully against Robert Downey Jr.'s hapless outsider and Val Kilmer's suave detective. These two joining forces will make for one captivating film.
The one thing that does make me a bit nervous about this announcement is the fact that Penthouse North will be written by David Loughery. Loughery previously gave us Lakeview Terrace and Obsessed; two of the least thrilling thrillers in recent memory.
Your Daily Blend of Entertainment News