Modern Family's Eric Stonestreet Joins Identity Thief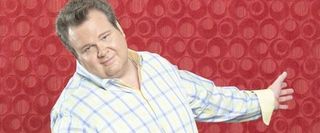 Following her breakout performance in Bridesmaids that earned her widespread fame as well as Oscar acclaim, fearless comedienne Melissa McCarthy soon signed on to co-star opposite Jason Bateman in the crime caper Identity Thief. That pairing alone had many looking forward to director Seth Gordon's follow-up to Horrible Bosses. Then as the feature geared up for its start-date, it began culling together a pretty spectacular supporting cast that includes Jon Favreau, John Cho, Clark Duke, Amanda Peet, and the rapper T.I. And now, with Identity Thief in full-on production mode down in Atlanta, THR reveals Emmy-winner Eric Stonestreet is the comedy's latest cast addition. (Sidenote: whoever picked the picture for the trade's piece must hate Stonestreet. Yeesh.)
In Identity Thief McCarthy stars as the eponymous criminal, a hot mess of a woman who manages to pull one of her victims, a timid family man played by Bateman, into the flurry of chaos that is her life. For his part, Stonestreet has signed on to play Big Chuck, a boisterous real estate broker who runs afoul of this unlikely duo. Best-known for his critically acclaimed, family-friendly antics as the affable part-time clown/full-time dad Cam on Modern Family, Stonestreet seems destined to spark onscreen with the similarly high-energy McCarthy. However, my hopes are that the role of Big Chuck will give him a chance to break away from his lovable TV persona, and show audiences a slightly edgier brand of humor. Working with Gordon, McCarthy and Bates, he's in good company to take such a leap, and I'd bet it would pay off brilliantly.
Identity Thief will hit theaters May 10, 2013.
Staff writer at CinemaBlend.
Your Daily Blend of Entertainment News
Thank you for signing up to CinemaBlend. You will receive a verification email shortly.
There was a problem. Please refresh the page and try again.