More Dark Comedy For David O. Russell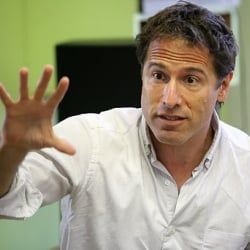 I have to admit David O. Russell has me impressed. After the endlessly troubled production of Nailed and his reputation for having screaming matches on the set, I was wondering if the work would start slowing down for the Three Kings director. But the Weinstein brothers, maybe sensing a kindred spirit, are back on board with Russell 13 years after Flirting With Disaster, and will help him write and direct an adaptation of The Silver Linings Playbook.
The book, written by Matthew Quick and published last September, sounds like it has the right mix of comedy and drama that Russell had mined so well in the past. Variety writes that the book is about a former high school teacher who gets released from a mental institution and has no choice but to go back and live with his mom. Ouch.
Staff Writer at CinemaBlend
Your Daily Blend of Entertainment News
Thank you for signing up to CinemaBlend. You will receive a verification email shortly.
There was a problem. Please refresh the page and try again.