Upcoming Zoe Saldana Movies: What's Next For The MCU Star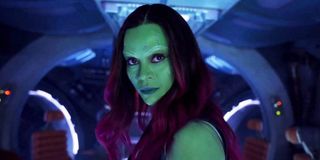 Over the course of her career, Zoe Saldana has appeared in some of the most financially successful and culturally significant film franchises which have brought in record-setting and record-shattering results at the box office. From her turn as Neytiri in James Cameron's Avatar, to portraying Gamora in multiple movies in the Marvel Cinematic Universe, Saldana has continued to ride the wave of success and all while bringing iconic characters to life to the delight of many.
But, aside from brief cameos, documentaries, and voice-acting gigs, we haven't seen much of Zoe Saldana since "bad" Gamora entered the picture in 2019's Avengers: Endgame, leaving some to wonder what she's been up to for the past two years. Well, I'm happy to say we will be seeing a lot of Saldana in the very near future with returns to two of her most successful franchises as well as other high-profile and exciting projects.
Avatar 2 - December 16, 2022 (Post-Production)
Zoe Saldana was already an up-and-coming star in Hollywood by the time Avatar was released in December 2009, but her performance as Neytiri, the Na'vi princess at the center of James Cameron's epic sci-fi adventure, helped make her an international superstar. After more than a decade of planning, filming, and countless hours spent in post-production, the franchise will pick back up on December 16, 2022 with Avatar 2.
Set 13 years after the events of the first film, the second film in the franchise will follow Jake Sully (Sam Worthington) and Neytiri as they raise a family and keep their clan together. This proves to be no easy task, however, when the pair are forced to leave the safety and comfort of their home to take on a threat they thought they'd never see again.
Although we still have a considerable amount of time before Avatar 2 is released, Zoe Saldana has been finished with her work on the sci-fi sequel for nearly three years, having wrapped her motion-capture work for Avatar 2 back in June 2018. With a movie so reliant on CGI and other special effects, it should be noted that work on preparing the movie for its December 2022 release is far from finished, though Saldana has moved on to work for that film's sequels, which will be released in the years following the release of Avatar 2.
Avatar 3-5 - December 20, 2024, December 18, 2026, December 22, 2028
We're not getting just one Avatar sequel in the next few years, we're getting a total of four movies. It should be noted that at this point in time not much is known about Avatar 3, with next to nothing being revealed about its two sequels, set to be released every other year until December 2028. And, since the events of the third installment of the Avatar franchise will be determined by what goes down in Avatar 2, it's hard to say exactly what kind of role anyone will have, Zoe Saldana and Sam Worthington included.
Despite the growing list of unknowns about Avatar 3, one piece of information that will surely make fans of the property excited is the fact that a great deal of the film, which is set to be released on December 20, 2024, has already been shot, because the production got started at the same time as its predecessor. With live-action photography having wrapped up in December 2020, all that is left to do is the post-production work, which admittedly, looks to be no easy task. If everything remains on schedule and there are no additional delays, we'll see Avatar 4 on December 18, 2026 and Avatar 5 on December 22, 2028.
Guardians Of The Galaxy Vol. 3 - 2023 (Pre-Production)
It has to be officially revealed just how Zoe Saldana will fit into the upcoming Guardians of the Galaxy Vol. 3, but if speculation from the past few years is to be believed, it sounds like the story will center around the ragtag group of heroes trying to locate their missing partner (and Star Lord's love interest) after "bad" Gamora went missing following the events of Avengers: Endgame. Trying to imagine a Guardians movie without one of the major stars and key members of the squad seems unfathomable, so expect to see a lot of Gamora, but just not the Gamora that Peter Quill (Chris Pratt) wants to see.
It should also be noted that Gamora is one of key members of the Guardians crew not set to appear in Thor: Love and Thunder, so it very well could be a situation where she is located (possibly in a post-credits scene) and then have Guardians of the Galaxy Vol. 3 see her getting back in the swing of things (or for the first time, depending on which Gamora we're talking about here). That being said, the movie is currently in pre-production with a release window of some time in 2023.
The Adam Project - TBD (Filming)
When she's not busy in Pandora or the Marvel Cinematic Universe, Zoe Saldana will spend some time working on several other exciting projects, the first being Shawn Levy's equally star-studded sci-fi thriller by the name of The Adam Project. In the movie, Ryan Reynolds plays a time traveler who is tasked with going back to find his 13-year-old self so that they can locate his father, a brilliant but deceased physicist played by Mark Ruffalo, to save the future from an end-of-the-world event. Saldana joined the cast in November 2020, per Variety, but her role has yet to be revealed. Catherine Keener is set to play the film's villain, with Alex Mallari Jr. on board to play her right hand man.
The Adam Project has been in the works for nearly a decade now, with a previous version of the film's script being looked at by Paramount Pictures with Tom Cruise attached, per a 2012 Deadline report. The version that will eventually land on Netflix, however, has been quite active since summer 2020 with principal photography getting underway in November of that year, according to The Hollywood Reporter. There is currently no word on when The Adam Project will be released.
Untitled David O. Russell Film - TBD (Filming)
There is currently a project in the works that has a cast so impressive it actually seems like a big joke, but the yet-to-be-titled David O. Russell film is very much real. Nothing has been revealed about the movie outside of a brief description found in a 2020 Collider piece that pretty much says it will follow a doctor and a lawyer who form an unlikely partnership. Okay, let's get into the cast. Christian Bale, Margot Robbie, John David Washington (replacing Michael B. Jordan), Rami Malek, Zoe Saldana, Robert De Niro, Mike Myers, Timothy Olyphant, Michael Shannon, Chris Rock, Anya Taylor-Joy, Andrea Riseborough, Matthias Schoenaerts, and Alessandro Nivola have all signed on for this mysterious and intriguing project. Too good to be true, right? Wrong!
The movie, which will serve as a followup to David O. Russell's Joy, which was released in 2015, has already entered production, according to Deadline. No information on a release date, full plot, or even title has been officially announced at this time.
Keyhole Garden - TBD (Filming)
Zoe Saldana worked with her husband on the upcoming romantic drama Keyhole Garden, which centers on a couple struggling to make their relationship work despite ongoing struggles and tension caused by living on America's southern border. According to Empire, the movie, which was co-written and directed by Marco Perego-Saldana (making his directorial debut), will tie three narratives together for one central exploration of love and humanity: one focuses on a young boy trying to save his friend from deportation, the second follows a border agent who unknowingly makes things difficult for a former lover, and the third being about a cartel member finishing one last job.
Production on Keyhole Garden got underway in August 2019 in Albuquerque, New Mexico, as reported by the Albuquerque Journal. There have not been any updates since shortly before principal photography was set to begin.
Fencer - TBD (Pre-Production)
At some point in the near future, Zoe Saldana will lead the sports drama Fencer from writer/director Jasmine McGlade that is to be produced by Casey Affleck. According to a February 2020 Variety report, the story is inspired by McGlade's past as a national champion fencer whose biggest achievement came in college when she led the Harvard fencing team to an NCAA Championship in the sport. Saldana will be leading things in a role that will see her play an athlete battling opponents in matches while also dealing with issues in her personal life. There have not been any updates on Fencer since the initial announcement early last year.
From Scratch (Netflix Limited Series) - TBD (Pre-Production
Zoe Saldana is also set to appear in the Netflix limited series From Scratch, a project she will co-produce with Reese Witherspoon, per a November 2019 Variety report. Based on Tembi Locke's 2019 memoir of the same name, the series will follow an American woman (presumably played by Saldana) who falls in love with a Sicilian man. Years after first meeting, the pair create a life with one another in the United States, but when he suddenly dies, she is left to raise a daughter alone. Like several other projects listed here, there have not been any additional details regarding the production of From Scratch since its initial announcement, though there is a page for the show on the Netflix website (opens in new tab).
By the looks of it, Zoe Saldana is going to be busy for quite some time, even when you don't include her Avatar and MCU work. One successful franchise that is missing from this list is the Star Trek series of movies, which the actress has been a part of since the 2009 reboot of the sci-fi classic. Hopefully, we haven't seen the last of her on the USS Enterprise.
Philip grew up in Louisiana (not New Orleans) before moving to St. Louis after graduating from Louisiana State University-Shreveport. When he's not writing about movies or television, Philip can be found being chased by his three kids, telling his dogs to stop yelling at the mailman, or yelling about professional wrestling to his wife. If the stars properly align, he will talk about For Love Of The Game being the best baseball movie of all time.
Your Daily Blend of Entertainment News
Thank you for signing up to CinemaBlend. You will receive a verification email shortly.
There was a problem. Please refresh the page and try again.