Morgan Freeman Jazzes It Up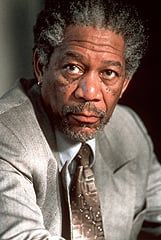 Morgan Freeman has played a wide range of characters in his career, and now he is ready to take on Jazz great Duke Ellington.
According to Variety, New Line has acquired the rights to The Jazz Ambassadors, with Morgan Freeman in the starring role. Jeremy Donner is writing the script, and Antoine Fuqua (no, I'm not sure if that's how you pronounce it either) is directing. He hasn't made a film since King Arthur in 2004.
The Jazz Ambassadors spans the Ellington orchestra's tour of Iraq during a 1963 CIA-led coup, eventually leading the way for Saddam Hussein's rise to dictatorship. Years later, it was discovered that the CIA exploited the love for Ellington's music by planting spies in the entourage, as the orchestra went around angry parts of the world.
The movie will relay the conspiracy-riddled story, and Ellington's knowledge (or lack thereof) will play into the dramatic elements. Personally, I'm just happy to see Morgan Freeman steering clear of those recycled cop movies with Ashley Judd. Here's to hoping for a relapse-free future.
Your Daily Blend of Entertainment News