The One Big Change Suicide Squad Is Apparently Spending Millions To Make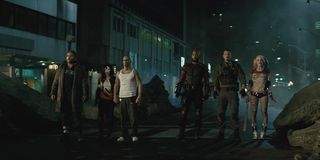 Last year's footage of Suicide Squad from San Diego Comic-Con painted the movie as an action-packed, yet gloomy affair. Then January's first official trailer did a complete 180 with fun moments and quips being dropped left and right while Queen's "Bohemian Rhapsody" played. Well, it turns out that said trailer might have featured every one of Suicide Squad's jokes, but now Warner Bros isn't sparing any expense to ensure the August blockbuster resembles its latter preview more.
Thanks to the positive response to the most recent Suicide Squad trailer, Birth.Movies.Death has heard that Suicide Squad is currently in the middle of reshoots that are reportedly costing tens of millions of dollars. The reason for this is to add more humor and lightness to the movie, which would certainly separate it tonally from its darker predecessor, Batman v Superman: Dawn of Justice. The article points out that this doesn't mean that jokes are being added all over the place, but rather the goal is to increase "fun character moments and interactions" in Suicide Squad.
Remember this amazing trailer?
Suicide Squad's principal photography began in early April of last year and wrapped four months later. Nowadays, big blockbusters (especially superhero movies) going in for reshoots isn't anything out of the ordinary, but what Suicide Squad is doing is much more than getting alternate takes of a few scenes or even shooting at a different location. Warner Bros is taking steps to give audiences a movie that, while still heavy on the action, will let the primary characters to have more lighthearted moments. And hey, more opportunities to develop characters are always welcome when it comes to storytelling. That said, if you've read any of the original Suicide Squad comics, you know that things get downright dark, so don't expect these "lightness" additions to take away from the dangerous situation these characters find themselves in.
Revolving around a group of incarcerated super villains who go on dangerous black ops missions for the government in exchange for leniency, Suicide Squad is featuring a variety of antagonists from around the DC universe, from well-known villains like Harley Quinn and Deadshot to lesser-known baddies like Diablo and Slipknot. From the last trailer, the main standouts comedy-wise were Margot Robbie's Harley (who wasn't afraid to comment on the voices in her head) and Jai Courtney's Boomerang (who freaked out after being cut out of that body bag). Even Jared Leto's Joker looks like he'll have some good one-liners. With these reshoots, maybe some of the more minor players will get a bit more to do. The Suicide Squad changes should also come as a relief to those who believed Batman v Superman: Dawn of Justicee was too grim and depressing, and if they go over well, maybe this will affect Justice League: Part One's production.
Suicide Squad hits theaters on August 5.
Your Daily Blend of Entertainment News
Connoisseur of Marvel, DC, Star Wars, John Wick, MonsterVerse and Doctor Who lore. He's aware he looks like Harry Potter and Clark Kent.
Your Daily Blend of Entertainment News
Thank you for signing up to CinemaBlend. You will receive a verification email shortly.
There was a problem. Please refresh the page and try again.