The One Star Wars Prop That Triggered Massive Deja Vu For Mark Hamill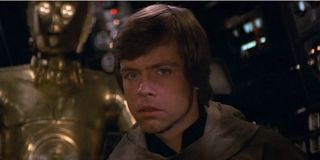 Mark Hamill is super excited about his returning to the role of Luke Skywalker in the upcoming Star Wars reboot and has subsequently expressed it on numerous occasions while discussing the upcoming film. Recently he took a trip back in time when a very well-known Star Wars prop triggered memories of his experiences on the old series of films.
The seemingly always-chatty actor was careful when discussing the upcoming Star Wars: The Force Awakens with ExtraTV, confirming ahead of time with his off-camera team to assure he wouldn't spill any critical information about the film. He then proceeded to share his excitement upon seeing the infamous YT-1300 light freighter on the set of the highly-anticipated Star Wars continuation.
One may think it overboard that Hamill would have to check, prior only to discussing the presence of the Millennium Falcon, but it's just part of the deal when working on a film of this magnitude. Not wanting to spoil or leak anything that the studio may want to keep as a surprise for the audience is common practice. The level of secrecy on the set of The Force Awakens, however, has brought things to an entirely new level. Only a few days ago, Hamill went into detail on the cast and crew's commitment to protecting against reporters and paparazzi, who are determined to get insider info through the likes of the latest technology.
The actor details how back in the day they may have had that one rogue reporter hanging around the studio bribing people for stories. Nowadays, however, it's much different with he and his crew being instructed to wear their hooded robes from their trailers to the soundstage to protect from overhead drones, attempting to fly over the studio to grab a few snaps of the action. So, yeah, we can see how he may be a little overly cautious when discussing the film.
Star Wars: Episode VII - The Force Awakens is set 30 years after Star Wars: Episode VI - Return of the Jedi. The continuation to the original George Lucas franchise of films was scripted by Lawrence Kasdan and J.J. Abrams, the latter who is also directing the picture. It is slated for release on Dec. 18, 2015.
Your Daily Blend of Entertainment News
Thank you for signing up to CinemaBlend. You will receive a verification email shortly.
There was a problem. Please refresh the page and try again.