Paranormal Activity 4 Goes Big With IMAX Release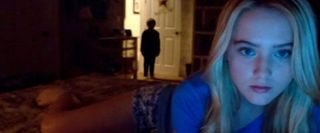 This October marks the fourth year in a row that Paramount Pictures has terrorized audiences with a new entry in their wildly successful found footage franchise Paranormal Activity. Already the series that focuses on the demonic exploits that plague one doomed family has earned more than $575 million worldwide. To be sure their latest installment, Paranormal Activity 4, scores with audiences, Paramount brought back Henry Joost and Ariel Schulman (of Catfish fame/infamy), the cheered co-helmers of the surprisingly sharp prequel Paranormal Activity 3, to continue to grow the world of these freaky films. But to give their box office an additional boost, the studio is also offering an IMAX release of killer Katie's latest adventure.
Varietyreports that Paranormal Activity 4 is being digitally re-mastered with a reworked sound and image quality suitable to the immensity of IMAX presentation. While the film will open nationwide October 19th, kicking off with sure to be spirited midnight screenings, its IMAX version will launch at about 300 locations as early as October 18th at 9PM. So keep all this in mind while deciding on which Paranormal Activity 4 ticket you want to buy.
Notably, Paranormal Activity 2 also receives an IMAX release, but due to critical panning and bad word of mouth it was ultimately the least profitable of the franchise. However, being a $3 million picture that made $177 million worldwide, you can't really knock its box office too much. While horror fans jeered the hasty sequel, they rallied around Joost and Schulman's inventive prequel that found new ways to terrify with the found footage device. So pairing their savvy for in-camera scares with the overwhelming presentation of IMAX should prove fantastically frightening. Cheers to Paramount for adding another element to this release that underlines its "event" appeal, making it a release horror fans dare not miss.
To see trailers stills and more from Paranormal Activity 4 check our Blend Film Database.
Staff writer at CinemaBlend.
Your Daily Blend of Entertainment News
Thank you for signing up to CinemaBlend. You will receive a verification email shortly.
There was a problem. Please refresh the page and try again.