The Best Horror Movies On HBO Max Right Now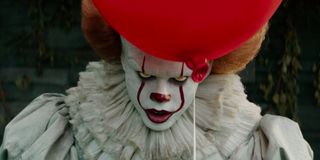 One would hope that a streaming service with the name HBO Max would have some of the best movies you can find from any kind of genre and, luckily, this is a platform that does not disappoint. I would even say that the best horror movies on HBO Max are genuinely some of the best horror movies of all time, ranging from creepy classics to modern masterpieces of the macabre.
You do not necessarily have to take it from me, but I still would check out the vast collection on the young, but still leading, streaming service and see if it satisfies the horror fan in you. To help narrow down your search, we have compiled our choices for the scariest selections from cinema you can currently find on HBO Max. Streamer beware.
The Conjuring (2013)
Haunted house movies had seen better days and director James Wan showed he agreed by literally returning to those days with a film set in the subgenre's prime: the 1970s. Inspired by the alleged case files of Ed and Lorraine Warren (played by Patrick Wilson and Vera Farmiga), The Conjuring chronicles the paranormal investigators' struggle to rid a family's Rhode Island home of a malevolent spirit. Scary enough to earn an R-rating and still manage to fill seats, the hit thriller would kick-off a "true horror" shared universe whose next installment, The Conjuring: The Devil Made Me Do It, is one of the most anticipated upcoming horror movies on schedule.
Stream The Conjuring on HBO Max.
Poltergeist (1982)
The early 1980s would prove to be a sweet spot for the haunted house subgenre and Poltergeist is widely considered to be the crown jewel of the era. In this infamous classic produced by Steven Spielberg and directed by Tobe Hooper (well, on paper, at least), Craig T. Nelson and JoBeth Williams play a married couple who work with a team of researchers to rescue their young daughter (Heather O'Rourke) from a metaphysical evil that has physically kidnapped her into a spiritual realm. Outside of its relentlessly creepy atmosphere and special effects that hold up quite well, what truly makes Poltergeist such a timelessly horrifying experience is how earnestly it depicts the trauma of losing your child.
Stream Poltergeist on HBO Max.
It (2017)
The traumatic disillusionment of growing up affects many children, but often goes unseen. Stephen King brought that feeling to life in his 1986 novel It in the form of a creature that specializes in traumatic illusion when not disguising itself as a symbol of innocence. Of course, with the unnerving design(s) of Pennywise and Bill Skarsgard's bloodcurdling performance, there is no question this clown means trouble for our young protagonists. Also be sure to complete director Andy Muschietti's terrifying adaptation by streaming It: Chapter Two, or if you are too squeamish, streaming the 1990 miniseries starring Tim Curry - both also available on HBO Max.
The Shining (1980)
Fans of Stephen King go back and forth over what is truly the most terrifying adaptation of his work, with most choosing this story of a recovering alcoholic writer (Jack Nicholson) driven insane by the manipulative presence haunting the empty hotel his wife (Shelly Duvall) and son (Danny Lloyd) are looking after during a lonely winter. While King himself would disagree, writer and director Stanley Kubrick's take on The Shining is a masterful exercise in chilling suspense that curdles into unfiltered, paralyzing fear. You will almost wish you had Danny Torrence's psychic "shine" to better prepare yourself for the film's biggest scares as they literally come bursting through.
Stream The Shining on HBO Max.
Misery (1990)
The theme of isolation is common in much of Stephen King's work, as is a protagonist who writes for a living - case in point, the book that inspired this acclaimed thriller from director Rob Reiner. James Caan plays a best-selling author taken in after a near-fatal car wreck by a nurse claiming to be his Number One fan who soon makes his life a living hell when she does not like the ending to his latest novel. Kathy Bates won an Oscar for her unhinged performance in Misery as Annie Wilkes, who is easily the most horrifying representation of toxic fan obsession ever.
Saw (2004)
Before James Wan resurrected haunted house movies and Leigh Whannell reinvented classic movie monsters, the duo first got noticed as the respective director and writer of this brutal brainteaser unique to American audiences at the time. Two strangers (Cary Elwes and Whannell) wake up chained to a dirty restroom and try to figure out why they are there and how to escape in Saw - the smartest and strongest installment of a franchise that became more about crafting the most disturbing traps than crafting a real mystery. Yet, Spiral: From the Book of Saw (one of the most anticipated 2021 movies for horror fans) could bring it back to its roots.
Scream (1996)
Having become largely over-the-top and violence-obsessed, the slasher genre was as good as dead before writer Kevin Williamson brought it back to life by, essentially, tearing it to pieces with help from one its most iconic pioneers. Directed by the late Wes Craven, Scream is an instant classic whodunnit in which teen Sydney Prescott's (Neve Campbell) tragic past comes back to haunt her in the form of a killer in a ghostly mask, striking fear in the whole town. Arguably the best scene of the film (and, perhaps, the whole franchise which will welcome Scream 5 in 2022) is the opening, in which Drew Barrymore has a disturbing phone conversation that evolves into a heartbreaking spectacle of gore.
New Nightmare (1994)
Arguably, the film that really put Wes Craven on the map is 1984's A Nightmare on Elm Street, which introduced Robert Englund as Freddy Krueger into our worst dreams before he became a purveyor of grisly puns. Wanting to revive his more menacing vision for the burned, clawed boogeyman, Craven brought him into "the real world" in New Nightmare, in which the series' original final girl Heather Langenkamp finds herself haunted by her horror movie legacy in a horrifyingly genuine sense. Everyone has a favorite Nightmare and this deliciously meta and inventively creepy installment is easily mine.
Stream New Nightmare on HBO Max.
The Exorcist (1973)
Everyone has a different choice for what is the scariest movie of them all, and I would not discredit anyone who, after nearly 50 years, still considers this devilish adaptation of William Peter Blatty's novel as the supreme holder of that title. What is really fascinating about The Exorcist, aside from being a horror movie based on a true story, is director William Friedkin wasn't trying to make a horror movie, but a commentary on faith through the eyes of a priest (Jason Miller) questioning his beliefs as a desperate mother (Ellen Burstyn) enlists his help in ridding the evil that has taken hold of her daughter (Linda Blair). Then 14-year-old Blair received an Oscar nomination for her unforgettable performance as the possessed child in this unforgettable and (literally) chilling masterpiece.
Stream The Exorcist on HBO Max.
Whatever Happened To Baby Jane? (1962)
Whatever happened to character-driven movies that rely purely on atmosphere and expert pacing to frighten its audience? Well, those still very much exist, yet are harder to find these days, but a trip back to yesteryear will point you in the direction of one of the most essential examples, Whatever Happened to Baby Jane? This Oscar-winning story of an immobilized former child star put in the care of her envious sister is a tour de force of psychological thrills brought to perfection by Bette Davis and Joan Crawford, whose classic Hollywood rivalry would fuel this infamous example of art imitating life.
Stream Whatever Happened to Baby Jane? on HBO Max.
Shaun Of The Dead (2004)
It is always a good idea to throw in a laugh or two during a scary binge and one of the best horror-comedy movies ever also manages to be one of the best zombie apocalypse movies ever. Directed by Edgar Wright, who also co-writes with star Simon Pegg, Shaun of the Dead fuses the rules of a George A. Romero classic with British sitcom antics into an impossibly perfect blend that never resorts to parody. How's that for a slice of fried gold?
Stream Shaun of the Dead on HBO Max.
An American Werewolf In London (1981)
Director John Landis became a household name in the the late 1970s for humor, but first lived out his aspirations to scare with this classic about two college students (David Naughton and Griffin Dunne) vacationing in the U.K. when a vicious animal attack that leaves one dead and the other (David Naughton) a monstrous creature by night. Oscar-winning makeup, timelessly breathtaking special effects, and a perfect blend of horror with comedy has convinced countless fans that An American Werewolf in London is one of the finest takes on lycanthropic folklore of all time.
Stream An American Werewolf in London on HBO Max.
Eraserhead (1977)
The beautiful thing about horror is how it applies to wide variety of unique styles and no style of filmmaking is more unique than that of David Lynch and, arguably, no film more definitive of his experimental vision than his black and white feature-length directorial debut that boldly defies traditional horror... or storytelling. Twin Peaks actor Jack Nance plays Harry Spencer, a factory worker who becomes the guardian of his ex-girlfriend's mutant child, which is merely the basis for all the surreal and disturbing phenomena that Eraserhead challenges you to bear witness to.
The Hills Have Eyes (2006)
Horror fans may take pleasure in the mysterious and the macabre, but there is one thing that haunts them to an intolerable degree: remakes. Fortunately, every once in a while, Hollywood manages to make a diamond in the rough from their coal mine of unoriginal ideas, such as The Hills Have Eyes, French writer and director Alexandre Aja's relentlessly brutal update of the 1977 Wes Craven classic about a vacationing family terrorized by a group of savage mutants deep in the desert.
Stream The Hills Have Eyes on HBO Max.
The Invisible Man (2020)
Speaking of good horror remakes, we would say Australian writer and director Leigh Whannell made an essential example of what good can come from reinventing a pre-existing work of fiction with his stunningly original modernization of The Invisible Man: the Universal monster classic inspired by H.G. Wells' novel. Elisabeth Moss gives one of the finest performances of the year as an escapee of an abusive marriage convinced her supposedly dead husband has found a way to continue haunting her without being seen.
Stream The Invisible Man on HBO Max.
Day Of The Dead (1985)
Most classics of the zombie subgenre have also been given a modern update at some point, including this mid-'80s favorite centering on a small group of soldiers and scientists taking refuge in an underground bunker long after the dead has taken full control of what society used to be. Written and directed by the late, great George A. Romero, Day of the Dead is actually the third installment of the highly influential horror pioneer's chronicle of the zombie apocalypse, which all began on one fateful and iconic night.
Stream Day of the Dead on HBO Max.
Night Of The Living Dead (1968)
No horror movie list is complete without a George A. Romero selection. Night of the Living Dead stars Duane Jones and Judith O'Dea and is about seven people who find themselves trapped in a rural farmhouse, in a deadly battle against zombies. Night of the Living Dead helped redefine the horror movie genre and ushered in a new wave of horror movie making. Romero really helped make the zombie movie genre what it is today.
Stream Night Of The Living Dead on HBO Max.
Jaws (1975)
Jaws helped rationalize everyone's fear of sharks by amplifying it. Steven Spielberg directed Jaws with Roy Scheider, Robert Shaw, and Richard Dreyfuss starring in it. Beachgoers find themselves terrorized by a man-eating shark. It is up to a team of experts to hunt and stop the beast. There are many reasons why Jaws is one of Spielberg's best films, and one of them is that it is entertaining from start to finish.
Eyes Without A Face (1959)
Eyes Without a Face is a french horror movie that stars Pierre Brasseur and Alida Valli. It's about a man who is determined to have a face transplant surgery on his daughter. Her face became disfigured during a car crash. Eyes Without a Face influenced many films with similar themes and plotlines, including Pedro Almodovar's The Skin I Live In.
Stream Eyes Without A Face on HBO Max.
No matter what time of the year, this leading streaming service always has movies that are scary to the max. Would you agree and, if so, what is your favorite horror movie to stream on HBO Max?
This poll is no longer available.
Jason has been writing since he was able to pick up a washable marker, with which he wrote his debut illustrated children's story, later transitioning to a short-lived comic book series and (very) amateur filmmaking before finally settling on pursuing a career in writing about movies in lieu of making them. Look for his name in just about any article related to Batman.
Your Daily Blend of Entertainment News
Thank you for signing up to CinemaBlend. You will receive a verification email shortly.
There was a problem. Please refresh the page and try again.