The Blair Witch Project And 12 Other Great Found Footage Thrillers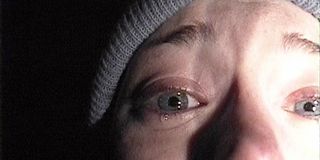 In 1994, three film students ventured into a Maryland woods to shoot a documentary, never to be seen again, but their footage was retrieved the following year... or so we believed. The Blair Witch Project, one of the most acclaimed and profitable horror hits of all time, had moviegoers convinced the traumatizing footage of this young trio desperately trying to find their way out of the woods was real. To be fair, this was years before found footage movies became a dominant trend in the horror genre.
For some, found footage has a reputation for frantic, nausea-inducing cinematography and an equally sickening overabundance of a repeated gimmick within the past decade or so. However, when done right, it can more than just a gimmick, but an opportunity to tell uniquely immersive stories with a chilling authenticity that any genre could benefit from, really. Of course, scaring people, in well-known favorites like the controversial BBC broadcast of Ghostwatch or M. Night Shyamalan's 2015 comeback moment The Visit, has always been its bread and butter.
I will admit, I believe there may be a few too many found footage movies these days, but I have come across several diamonds in the rough that keep my faith in the subgenre's potential alive. In fact, I have 13 examples to share, starting with the most famous one of them all.
The Blair Witch Project (1999)
While investigating an urban legend, three aspiring documentarians find themselves lost in a wood near Burkittsville, Maryland, and soon begin suspect that they are not alone.
Why It Is One Of The Best Found Footage Movies: The Blair Witch Project was astonishingly unique for the horror genre at the time and remains a remarkable achievement for the unrecognizable, but very convincing, cast's improvised dialogue and camera use, as well as its ability to make you fear the villain without ever showing it to you.
Rent it on Amazon here
Cannibal Holocaust (1980)
After a documentary film crew disappears deep in the Amazon rainforest, a rescue team discovers the footage they left behind and soon meet tribal natives who have quite an appetite.
Why It Is One Of The Best Found Footage Movies: The Blair Witch Project can be credited as bringing found footage to the mainstream, but one of the first horror films to use the concept is the grotesque mockumentary within this Italian-produced exploitation piece so shockingly realistic the director had to prove his actors did not actually die on-set in court.
Stream it on Shudder here
Rent it on Amazon here
[REC] (2007)
A young TV reporter (Manuela Velasco) and her cameraman (Pablo Rosso) become one of several innocents trapped in a quarantined apartment building following a viral outbreak turning people into ravenous, animalistic killers.
Why It Is One Of The Best Found Footage Movies: Many credit this Spanish-language thriller as the found footage subgenre's peak of brilliance for how effectively it takes advantage of its singular setting to authentically create the claustrophobic environment in which unstoppable lurks at every turn.
Rent it on Amazon here
Cloverfield (2008)
A group of twentysomethings struggle to survive the night when a gargantuan creature wreaks havoc on New York in this unique take on the monster movie from producer J.J. Abrams and director Matt Reeves.
Why It Is One Of The Best Found Footage Movies: Cloverfield essentially kicked off the found footage trend after becoming a modest commercial and critical success, not only for its intriguingly mysterious structure, but its absorbing, character-driven narrative that adds an especially devastating aura to the chaos.
Stream it on Netflix here
Rent it on Amazon here
Paranormal Activity (2009)
After a few alarmingly strange occurrences, a young couple (Katie Featherston and Micah Sloat) set out to capture their homes' nightly activity on camera, which only seems to make things worse.
Why It Is One Of The Best Found Footage Movies: Director Oren Peli took a page from The Blair Witch Project by not putting words in his unknown leads' mouths and relying on their own reactions to the increasingly disturbing events that unfold to make this cheaply produced word-of-mouth hit a frighteningly convincing experience, enhanced by throwing out the closing credits.
Rent it on Amazon here
Stream it on Starz.
Trollhunter (2010)
A group of Norwegian students join a mysterious hunter to investigate a series deaths assumed to be bear attacks, until they discover the threat they are chasing is much, much bigger.
Why It Is One Of The Best Found Footage Movies: André Øvredal's breakout picture is a fun, inventive mockumentary which will never let you think of the titular fairy tale creatures the same way again.
Stream it on Tubi here
Rent it on Amazon here
Grave Encounters (2011)
The skeptical host of a paranormal reality show and his crew realize they are ill-prepared for a night locked inside a supposedly haunted insane asylum that becomes inescapable struggle for survival.
Why It Is One Of The Best Found Footage Movies: Grave Encounters feels like what would happen if shows like Ghost Adventures actually captured something sinister: the helpless hosts would shit their pants in desperation from the indelible frights and psychology torture these characters can just barely endure.
Stream it on Amazon Prime here, on Vudu here, or on Tubi here
Rent it on Amazon here
Paranormal Activity 3 (2011)
The third installment of the popular franchise started by Oren Peli's surprise hit reveals the truth behind the demons haunting Katie, the protagonist of the original, and her sister, Kristi, whom the second film focused on.
Why It Is One Of The Best Found Footage Movies: The grainy footage that helps sell the 1988-setting and the nightmarish circumstances the young girls face (especially creepy if you believe in the legend of Bloody Mary) has earned its reputation among fans as the franchise's best sequel.
Stream it on Tubi here
Rent it on Amazon here
The Bay (2012)
A young reporter recounts the events of a small town by Chesapeake Bay's horrifying 4th of July, during which a strange parasitic outbreak claims the lives of several infected with grotesquely bizarre symptoms.
Why It Is One Of The Best Found Footage Movies: Academy Award-winner Barry Levinson (Rain Man) directs this found footage gem told from multiple angles via handheld cameras, security footage, and news coverage that makes the already frightening concept of a deadly disease all the more believable.
Rent it on Amazon here
Chronicle (2012)
The lives of a lonely teen (Dane DeHaan), his cousin (Alex Russell), and their popular friend (Michael B. Jordan) change for the better (or, maybe, the worse) when a mysterious object gives them superhuman abilities.
Why It Is One Of The Best Found Footage Movies: Chronicle brilliantly takes advantage its characters' telekinetic powers to achieve camera angles unique to traditional found footage thrillers, through which we are presented a surprisingly relatable, and cautionary, supernatural coming-of-age story.
Rent it on Amazon here
V/H/S (2012)
A group of smalltime crooks are hired to find a rare videotape in a decrepit house and, in their search, come across a collection of footage that makes them question if this job was worth it.
Why It Is One Of The Best Found Footage Movies: The concept based around a nostalgic piece of home viewing material is enough to hook you in for this anthology of five raw, highly original, and just plain traumatizing shorts from some of the most acclaimed names in indie horror.
Stream it on Tubi here or on Crackle here
Rent it on Amazon here
Creep (2014)
Amateur videographer Aaron (director Patrick Brice) answers a Craigslist ad to film the final message of a terminally ill man named Josef (co-developer Mark Duplass), whose increasingly questionable behavior begins to make Aaron wonder if it is really his days that are numbered.
Why It Is One Of The Best Found Footage Movies: I applaud mumblecore pioneers Duplass and Brice's ability to improvise this darkly comic psychological thriller (the first in a proposed trilogy which has an equally haunting 2017 second chapter) almost entirely from beginning to end with deeply disturbing results that stick with you long after.
Stream it on Netflix here
Rent it on Amazon here
Unfriended (2015)
On the anniversary of their high school classmates' tragic death, a group of teens' online video chat is breached by an uninvited anonymous guest that forces them to play a game with deadly consequences.
Why It Is One Of The Best Found Footage Movies: I will never forget how pleasantly surprised I was by this intensely suspenseful Blumhouse release (told in real time, entirely from the point of view of the central character's laptop screen) that is probably the only film I will ever recommend to watch directly from your computer monitor.
Stream it on HBO Now here
Rent it on Amazon here
What do you think? Do gems give you a newfound appreciation for found footage, or would you prefer that I get lost in the woods? Let us know in the comments and be sure to check back for more info on the most thrilling releases you can rent or stream here on CinemaBlend.
This poll is no longer available.
Jason has been writing since he was able to pick up a washable marker, with which he wrote his debut illustrated children's story, later transitioning to a short-lived comic book series and (very) amateur filmmaking before finally settling on pursuing a career in writing about movies in lieu of making them. Look for his name in just about any article related to Batman.