Paranormal Activity: The Marked Ones Scares Up $1.2 Million At Midnight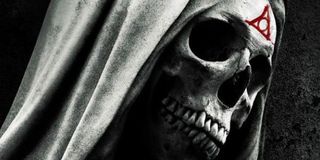 Last night residents of the Northeastern US were being warned of a snarling blizzard barreling their way. But even with the threat of 6 to 12 inches of snow, single digit temperatures, and vicious howling winds, fans of the Paranormal Activity franchise turned out in force.
THR reports Paranormal Activity: The Marked Ones took in $1.2 million from midnight screenings early Friday. With a reported budget of $5 million, this seems a fantastic start to the frightening franchise's spin-off installment. However, these figures pale in comparison to the midnight debuts of recently released similar horror titles.
For instance, in 2012 another possession-centered horror-thriller The Devil Inside also opened the first week of January. Despite being spectacularly loathed by critics--boasting a 6% rating on Rotten Tomatoes--this $1 million movie made $2 million at midnight screenings, on its way to a $33.7 mil opening weekend. Perhaps more to the point, Paranormal Activity 4, the previous release of this growing franchise, made $4 million on its midnight bow, culminating in a $29 million weekend. While THR was reluctant to get specific, they anticipate that The Marked Ones will hit neither of these marks.
So why the major dip for Paranormal Activity: The Marked Ones? It could be that the brutal blizzard that has blanketed the Northeast in snow killed moviegoers' enthusiasm for hitting up midnight screenings. If this is the case, this spin-off could rally this weekend as roads are plowed and people twitch with the cabin fever inherent by snow days. It might also be that the abysmal Paranormal Activity 4 has hurt the franchise's appeal. But frankly neither of these matters much. With a budget as low as The Marked Ones it is practically guaranteed to have a satisfying ROI for Paramount, meaning as little as it even, say, a $10 mil weekend would prove a success.
What'll be interesting is to see how Paranormal Activity: The Marked Ones will stack up at the box office this weekend. It's likely it will be in the black by Sunday night. But with some big holiday titles like The Hobbit: The Desolation of Smaug, The Hunger Games: Catching Fire and Frozen still a major force in theaters, this little horror feature is cutting into a crowded market.
However, it seems Paramount has planned for that, making the film to specifically attract Latino audiences who have proven a driving force in box office success last year. If this weekend bodes well for this movie's profits, then The Marked Ones will prove the start of a new branch of the Paranormal Activity franchise. Regardless, horror lovers will have Paranormal Activity 5 to look forward to this October.
Staff writer at CinemaBlend.
Your Daily Blend of Entertainment News
Thank you for signing up to CinemaBlend. You will receive a verification email shortly.
There was a problem. Please refresh the page and try again.