Patton Oswalt Talks Young Adult And The Lasting Impact Of The Bad News Bears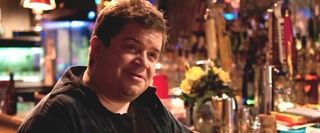 A few years ago in the indie drama Big Fan, Patton Oswalt showed off some dramatic chops that a lot of us never knew he had. The stand-up comedian had done plenty of acting in the past, including many seasons of The King of Queens and the unforgettable voice of Remy the Rat in Ratatouille, but Big Fan allowed Oswalt to go dramatic in a way he hadn't really before, playing a lonely and broken man with little to hope for in his life.
Good as it was, not that many people saw Big Fan, which means that this weekend's release of Young Adult may be the first opportunity for a lot of people to see how well Oswalt can build a character who's not too far removed from subjects he'd bring up in his standup, but also a fully developed and eventually heartbreaking character on his own. Oswalt plays Matt, a guy crippled after a horrific incident in high school and left to waste away in his hometown, where he lives in his sister's basement, spends his time distilling his own whiskey, and holds on to all his resentments from high school. He still resents the prettiest girl from his school, Mavis Gary (Charlize Theron), but when she comes back to town on a doomed mission to woo her ex-boyfriend, she and Matt strike up an oddball friendship anyway.
A few weeks ago I talked to Oswalt about the themes of stunted adulthood and desperately clinging to youth that are brought up in Young Adult, but we also talked about a ton of other stuff, including The Bad News Bears and why the existence of the Internet might have prevented Martin Luther King Jr. and Gandhi from becoming great men. Check it all out in the 13 minute interview below, and see Oswalt in Young Adult this weekend.
Staff Writer at CinemaBlend
Your Daily Blend of Entertainment News
Thank you for signing up to CinemaBlend. You will receive a verification email shortly.
There was a problem. Please refresh the page and try again.