Pixar's New Inside Out Footage Is So Cool, It Will Freeze Your Brain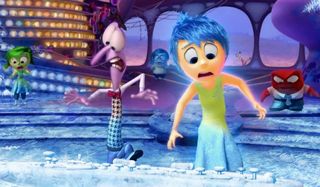 In case you were off making dinner or sipping cocktails during the commercial breaks last night, we got to see some brand new footage of Pixar's Inside Out during SNL's 40th anniversary special. The voices inside this young girl's head are already delightful — except for, perhaps, Anger and Disgust — but what happens to them during a brain freeze? Pretty much the same result we get when Elsa lets it go.
The SNL 40th anniversary special proved to be quite the ratings booster. Given all the to-do made over the celebrity guests and tributes, brands must have dished out some serious dough to get their commercials screened during the breaks. Though, Inside Out has Disney and Pixar money, so the price tag attached to a TV spot like this was no roadblock.
In Inside Out, a young girl named Riley becomes the setting as audiences dive into the deep recesses of her brain. There we meet her emotions Joy (voiced by SNL vet Amy Poehler), Fear (another SNL vet Bill Hader), Disgust (Mindy Kaling), Sadness (Phyllis Smith) and Anger (Lewis Black). All are working in sync, even when Riley has to move to a new home and make all new friends. But when Joy gets lost in the jungles of her mind, her whole emotional state is thrown off balance as the rest of the less-than-joyous emotions must steer this ship.
Both Poehler and Hader returned to the SNL stage for the 40th anniversary — Poehler for a new and hilarious "Weekend Update" with Tina Fey and Jane Curtin, and Hader for "The Californians" and the new digital short. While an Inside Out spot seemed out of the place for the festivities, Disney and Pixar presumably wanted to capitalize on the fact that two of its leads were featured prominently in this special.
Aside from the dynamite voice cast, Inside Out looks to be a fun experience for the whole family. The earlier bits of this new footage, which shows what the voices in mom and dad's heads are saying, is priceless banter we can't wait to experience in context. But the real anticipation comes from the fact that we didn't get a Pixar movie last year, which is kind of a huge deal. Ever since 2006 with the first Cars movie, we've been getting an annual Pixar movie. That streak ended in 2013 with Monsters University. The Good Dinosaur, which sees a hypothetical world in which dinosaurs were never wiped out, was originally scheduled for 2014. We even got to see some early footage and sketches at Disney's D23 Expo, but it was ultimately pushed back. The good news is that 2015 will see both Inside Out and The Good Dinosaur hit theaters — the first on June 19 and the second on November 25.
Your Daily Blend of Entertainment News