Pixar Will Only Make A Musical If This Happens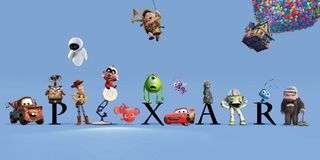 Disney's Frozen has surpassed Pixar's Toy Story 3 to claim the honor of highest grossing animated film of all time. But even though the animated musical has left all of Pixar's heralded features in the dust in the race to box office supremacy, that doesn't mean the animation studio is in a rush to imitate. While there could be a musical in Pixar's future, it won't come from a desire to ride Frozen's coattails.
Speaking with Movies.com, Pixar animator James Murphy gave some insight into how the company picks its feature projects. Asked specifically if a musical is in the cards for Pixar's upcoming slate, Murphy responded:
Of course, competing with Disney Animation is inherently silly for Pixar, as they belong to the same parent company, Walt Disney Pictures. But after more than a decade of dominating the conversation on groundbreaking animation, Pixar hit some snags with their latest slate. Cars 2 was loathed by critics, sneered for being a sequel more in line with selling toys than telling a worthwhile story. Then they came under fire for having made 12 films, none of which were fronted by a female protagonist. So, Pixar unleashed Brave, which earned mixed reviews and criticisms for the handling of its heroine's tale. Some began to wonder if Pixar had lost its magic, as they then released the mediocre college comedy/sequel Monsters University in 2013.
None of these could be called a flop in the financial sense, but Pixar's reputation was no longer untouchable. The bloom was off the rose, it seemed - and then came Disney's Frozen, which reconstructed the princess narrative for a modern audience and won the hearts of countless fans with unforgettable characters and a totally enchanting anthem. Pixar may not be attempting to mimic Frozen in its upcoming slate, but it'd do well to take a look at the film to see what about it spoke to so many worldwide.
But, of course, Pixar has no shortage of ideas. Inside Out--about the emotions living within a little girls head--is primed for release on June 19, 2015. Following in November of next year will be The Good Dinosaur, and further down the line sequels to Finding Nemo, The Incredibles, and Cars. But there's four untitled Pixar projects promised for 2017 and beyond. We have no reason to suspect any of these could be a musical, but considering the high quality Pixar is generally known for, we can dream.
Your Daily Blend of Entertainment News
Staff writer at CinemaBlend.