Pixar Tells LGBT Kids That It Gets Better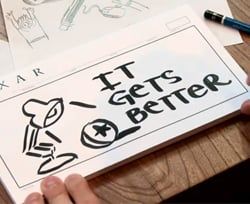 In this sad world where gay, lesbian, bisexual and transgender kids live in fear of bullying and worse, there is a glimmer of hope in the It Gets Better Project. Much like the Trevor Project, It Gets Better seeks to inform young gay kids that their lives are not over just because they feel trapped and alone. Whether they are out and enduring harder lives because of abuse from family or schoolmates, or closeted and too scared to tell the ones they love the truth, It Gets Better hopes to be the inspiration they need to make it to the next day and the next.
Pixar has recently come out with a video for the project, having all of their LGBT employees tell snippets of their stories, both about the struggles they faced growing up and the beautiful lives they are living today.
I'm a straight man, but I have gay friends who are living the lives they want to live out of the closet and I believe everyone deserves that right. So please, go to itgetsbetter.org and learn more about the project or pledge your support. Below is the video Pixar presented, and while it's not animated, it's just as inspirational as any of their films.
I also want to include the video below because I think it's an important video with the same purpose. For those of you afraid of your sexuality before God, here is a gay bishop from my home state of New Hampshire, telling you that it even gets better for you and that God loves beyond anything, including your sexuality. It's not movie related, but as long as we're spreading a message, this is the best way to do it.
Your Daily Blend of Entertainment News