New Prometheus Image Features Michael Fassbender's Android Character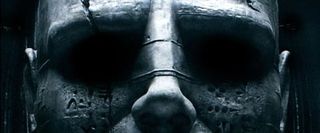 Has there ever been a better week for amazing trailers? It started on Monday with the moody, epic trailer for Christopher Nolan's The Dark Knight Rises. Yesterday we got our first look at Peter Jackson's return to Middle Earth with the trailer for The Hobbit: An Unexpected Journey. And tomorrow, we'll finally see the trailer for Ridley Scott's mysterious Prometheus. While we're waiting for that one to hit the internets, Empire Online has posted a new still from the flick. It's a new look at Michael Fassbender's character, an android named David.
There aren't many new details to pore over in this one. We've already seen the snazzy outfits, and Fassbender's character looks to be skulking around the same creepy location we've seen in much of the earlier imagery. What's he staring at? Probably that big giant head. Prometheus is all about the big giant head.
We know from that Fassbender's character is an android, we know he watched Blade Runner to prepare for the role, and we know that androids aren't usually trustworthy in Ridley Scott science fiction movies. Will Fassbender's David prove more Ash or Bishop? Maybe we'll get some clues when the trailer premieres tomorrow. Otherwise we'll just have to settle in for the long wait until June 8th.
Speaking of the trailer, Apple (opens in new tab) has premiered the final trailer preview on their site. Check it out below and over there in HD.
As always, for more on Prometheus be sure to head over to our Blend Film Database.
Your Daily Blend of Entertainment News
Your Daily Blend of Entertainment News
Thank you for signing up to CinemaBlend. You will receive a verification email shortly.
There was a problem. Please refresh the page and try again.