Ridley Scott Wants Christian Bale To Play Moses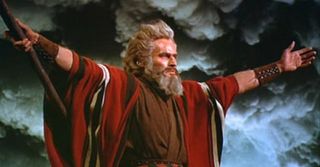 We were just talking about how Ang Lee might take over a film about Moses that Steven Spielberg had dropped, and now-- as if they sensed the competition out there-- an entirely different Moses project is making some major forward movement. According to Deadline Ridley Scott is now eyeing Christian Bale to lead Exodus, the project about that titular book of the Bible, in which Moses leads his people out of the desert.
Scott is looking to make this his next project after the star-studded The Counselor, which comes to theaters this fall, and he and the studio seem especially eager now that Steve Zaillian, the writer behind American Gangster and Moneyball, has come on board for a rewrite. Talks with Bale are early, according to Variety, but given that he's just about to jump into David O. Russell's political corruption movie, he would have to wait a while before filming on Exodus could begin. And that's just provided those Justice League rumors don't pan out.
A Biblical epic seems inherently old-fashioned, and a story about Moses in particular conjures up images of Charlton Heston in his robe and sandals in The Ten Commandments. But Darren Aronofsky is about to step up to the plate with his hugely ambitious Noah, and somewhere out there there's a green light for a Will Smith project inspired by Cain & Abel. With the History Channel's The BIble enjoying massive ratings it's clearly The Good Book is having a moment. So long as directors as talented as Scott and Aronofsky are behind it we can get on board… but as we all know, that won't last long.
Staff Writer at CinemaBlend
Your Daily Blend of Entertainment News
Thank you for signing up to CinemaBlend. You will receive a verification email shortly.
There was a problem. Please refresh the page and try again.