Robert De Niro Romances Monica Bellucci In Ages Of Love Trailer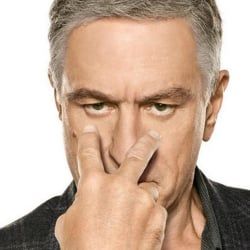 Though he had to suffer the indignity of actually starring in Little Fockers, things aren't so bad for Robert De Niro right now. After all Little Fockers is a hit-- an embarrassing, ungainly hit, but still a hit-- and his next screen effort involves him making out with bona fide Italian goddess Monica Bellucci. The Italian film Ages of Love appears to be a Love, Actually kind of thing about many different couples experiencing love, but since it's primarily featuring Italian movie stars, Bellucci and De Niro are the only ones you're going to recognize in the new trailer, which you can watch below. It's only available in fairly low quality, so apologies in advance for that.
And oh, what a thing it is to watch-- Bellucci, a solid 21 years younger than De Niro, seems utterly smitten by the older man, though since the entire trailer is covered by an Italian pop song it's hard to know what they're talking about that really makes this love connection happen. We learned when De Niro was cast that he'd be playing a divorced American professor now living in Rome, so now I'm really just hoping Bellucci doesn't play his student. Decide for yourself in the trailer below, but don't look forward to seeing the movie any time soon-- it's set for an Italian release in February, but has no U.S. distribution set up.
Your Daily Blend of Entertainment News
Staff Writer at CinemaBlend