New Robin Hood Featurette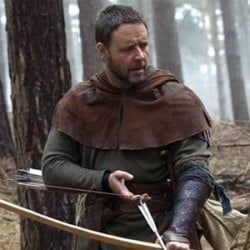 Nineteen years ago Kevin Costner hit the screen as the leader of a band of merry man in England (sans any English accent) and led a crusade against the injustice of the Sheriff of Nottingham. Even with its many, many flaws I loved Prince of Thieves. But after seeing the new featurette with Russell Crowe as the 21st century Robin Hood, I'm ready to pledge allegiance to the new robber of the rich, giver to the poor.
Robin Hood is one of those characters worthy of a reexamination every couple of decades. He's iconic, full of virtue, philanthropic (through force), shrouded in relative mystery, can split arrows with other arrows, hooks up with maids, and lives in the forest. What isn't to like? Russell Crowe and Ridley Scott reunite (Body of Lies, American Gangster, Gladiator, to name a few) for the story of Sir Robin Longstride and his fight against the tyranny and injustice levied down by the powers that be in England. Judging by the featurette, this movie appears way more in theBraveheart-mindset than its predecessors. The story is bigger, with a more full scope about the rising of the commoners against tyranny. Oh, and it looks amazing.
With Scott at the helm, there's reason for excitement. This kind of movie is right in his wheelhouse and his track record speaks for itself. Crowe also brings that brooding, darker side to a character who most certainly doesn't wear tights. Robin Hood opens in May and looks to be one of the big budget hits of the early summer. Check out the featurette below and get ready to fight against the man.
Doug began writing for CinemaBlend back when Terminator: The Sarah Connor Chronicles actually existed. Since then he's been writing This Rotten Week, predicting RottenTomatoes scores for movies you don't even remember for the better part of a decade. He can be found re-watching The Office for the infinity time.
Your Daily Blend of Entertainment News
Thank you for signing up to CinemaBlend. You will receive a verification email shortly.
There was a problem. Please refresh the page and try again.