Roger Rabbit 2 Will Use Polar Express CGI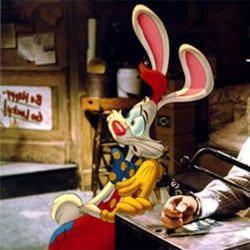 Robert Zemeckis is opening up about Roger Rabbit 2. We found out just the other day the original scribes will be back on board. Today, we learned a little more.
We've been wondering whether Robert's recent fetish with motion capture would lead to its use in the sequel, or if we'd see the traditional style used in films like Anchors Aweigh (opens in new tab) and of course his first Roger Rabbit. Zemeckis tells MTV that he will use MoCap, but not on the Toons. "I wouldn't use it for the cartoon characters, because I think they should stay two-dimensional because that's what — I wouldn't dimensonalize Roger," he said. "And I couldn't dimensonalize Jessica even if I wanted to because she doesn't have a nose. We wouldn't want to give her a nose."
At least it's good to know he's putting an assload of thought into this. If he's using motion capture though, what's the story? Maybe the phasing out of traditional animation by Mocap and cheap flash animation? Now that would be pretty damn interesting. As a filmmaker myself, I've always respected Robert for giving me something I never expected. From Back to the Future to cult classics such as Death Becomes Her or Roger Rabbit his work is fast paced, if not totally crazy. So all the power to him. Just don't make another Polar Express. I've had enough nap time.
As for who will star, no word yet on that. But here's hoping the MoCap will drag Bob Hoskins back. If not, let the casting rumors begin! But we must begin casting rumors properly... with Johnny Depp.
Your Daily Blend of Entertainment News
Thank you for signing up to CinemaBlend. You will receive a verification email shortly.
There was a problem. Please refresh the page and try again.