This Rotten Week: Predicting Contraband And Joyful Noise Reviews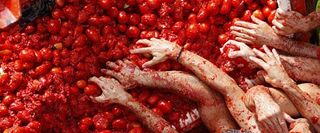 We're closing in on the 100th edition of This Rotten Week (this is number 97!) and the Rotten Offices are teeming with excitement in preparation for the big day. But despite the hustle and bustle, we've still got work to do and bad movies need predictions just like the good ones. This week Marky Mark gets back in the game and we get some "Amens!" from the choir.
Just remember, I'm not reviewing these movies, but rather predicting where they'll end up on the Tomatometer. Let's take a look at what This Rotten Week has to offer.
Contraband
I love a couple different kinds of movies. There are of course films exploring the existential debate over love and virtue as they relate to the human experience. These films explore the idea of relationships, reconciliation and human limitations through metaphor in a modern (and post modern) world. I also love flicks where Mark Wahlberg gets to say lines like "It takes money to make money," "I'm comin for you!" and "We're going to war," all while puffing out his chest and showing off his guns. Which category do you think Contraband falls in?
Wahlberg's tough guy (or ex-tough guy brought back into the game) persona is just the kind of thing this movie fan loves from a strictly popcorn perspective. It's what makes flicks like The Italian Job (72%)*, Four Brothers (52%) and Shooter (47%) so eminently re-watchable. Which puts a movie like Contraband right in his wheelhouse. Ex-tough who's left "the game" to turn "legit" only to get sucked back in for one last "score" to save his family? Perfect.
*I can't believe this movie scored so high on the Tomatometer. I mean it involves Mini Coopers as a major character. Don't get me wrong, I've seen it like eight times, but still.
Baltasar Kormakur (A Little Trip to Heaven-33%, Inhale-39%) directs this remake of the Icelandic film Reykjavik-Rotterdam. And while I don't think critics go gaga over this thing, I also think it has a place as a (fairly cheesy) action/ heist film which I'll undoubtedly watch fifteen times on cable over the next ten years. The Rotten Watch for Contraband is 43%.
.
Joyful Noise
Part of the trailer for Joyful Noise:
"But they only way to win the competition...Is for someone to change their tune."
Wouldn't it be great to be in charge of the movie trailer double entendre? I think I can come up with a couple of my own for this flick about a small town choir trying to grab the championship of choirs or whatever their trying to win. Please say this in your head with the trailer voice-over guy's inflection:
"They didn't have a chance, until he came along...and struck a chord."
"For this small town choir to win...they just needed to find their voice."
"What they had was talent, ego and turmoil...what they were looking for was just a little harmony."
See? It's easy. Feel free to try a couple of your own in the comments section.
Joyful Noise will probably appeal to someone out there, I just don't know any of those people personally. But critics have rather enjoyed writer/director Todd Graff's other forays into the musical comedy genre with movies like Bandslam (80%) and Camp (62%) and his latest looks right along the same lines. Pulling together some old guard (Queen Latifah, Dolly Parton) and combining them with some new teeny-bopper guard (Keke Palmer, Jeremy Jordan) he might've made a flick critics won't completely pan (like in the sub 10% range), despite the trailer's best intentions to prove otherwise. That being said, I don't think it comes close to living up to Graff's previous work, not even close. The Rotten Watch for Joyful Noise is 31%.
.
This poll is no longer available.
Recapping last week:
A great week for predictions as The Devil Inside (Predicted: 11% Actual: 7%) was reviewed just as crappily as expected. Played out exorcism theme combined with getting played out hand-held camera "documentary" style flick meant for a critical disaster. It didn't disappoint.
Next week, Soderbergh goes haywire, Beckinsale wakes up and the Tuskegee airmen take to the sky. It's going to be a Rotten Week!
Doug began writing for CinemaBlend back when Terminator: The Sarah Connor Chronicles actually existed. Since then he's been writing This Rotten Week, predicting RottenTomatoes scores for movies you don't even remember for the better part of a decade. He can be found re-watching The Office for the infinity time.
Your Daily Blend of Entertainment News
Thank you for signing up to CinemaBlend. You will receive a verification email shortly.
There was a problem. Please refresh the page and try again.