This Rotten Week: Predicting The Five-Year Engagement, The Raven, And More Reviews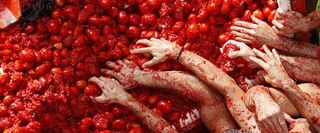 I'm away for the weekend, forgot my computer charger at home, was hijacked into going to church this morning and now need to finish this column on an old laptop that runs Internet Explorer. This is what hell is all about. Thank goodness we've got a full slate of movies to buoy my spirits. This week it's engagements, Statham, pirates and Poe.
Just remember, I'm not reviewing these movies, but rather predicting where they'll end up on the Tomatometer. Let's take a look at what This Rotten Week has to offer.
The Five Year Engagement
It wasn't too long ago I struggled down onto one knee, whipped out the three carat diamond behemoth bought on wholesale from "a friend", and eloquently proposed to Mrs. Rotten Week. What ensued was a romantic whirlwind of awkward familial responsibility, prolonged self-questioning and more than a little doubt that ultimately culminated in the perfect union we have today. Love you baby!
I'm sure Jason Segel and Emily Blunt know what I'm talking about even though a five year engagement is nothing these days. Most of this young generation can't commit to anything more than a few bong rips and a twelve hour Mass Effect marathon. But Segel and Blunt appear determined to go through with the marital plunge in spite of jobs, family pressure and hijinks. And it looks like a good flick.
Director Nicholas Stoller's resume is almost enough to feel confident about this movie's comedic and critical chances having helmed Forgetting Sarah Marshall (84%) and Get Him to the Greek (73%). Segel had a hand in both, starring in the former and contributing to the writing on the latter, so they appear a winning team. Their latest screened well at Tribeca Film Festival, so it could be another winning comedy on the Tomatometer and proof that rom-coms don't have to be cliched bores. The Rotten Watch for The Five Year Engagement is 71%.
.
Safe
Oh Jason Statham, how I love thee. I've written about Statham's on screen killing prowess before here, and for what it's worth, I think the Body Count Fantasy League is still a completely viable option for you gambling types. In fact, do you think Statham just flips through potential scripts browsing for all the chances he'll get to waste someone? If the numbers look good (and he gets to wear a flashy suit all the better) then he's all-in. Safe fits the Statham mold completely. And judging by the amount of guns and bad guys flashing through the trailer, this may be Statham's coup de grace as he seems to take on every single bad guy in all of New York City. Those kinds of numbers could be groundbreaking, and frankly I'm excited for the possibilities here. (Clarification: not about the critical possibilities, just the bloodshed numbers. This movie will probably bomb with critics.)
I usually don't concentrate too terribly much on actor's critical resumes, as I don't think they're necessarily a great indicator of future critical success. Bad actors can luck into good scripts with great directors and vice versa. But Statham's an outlier here simply because he really only picks (or stars in) a certain type of movie: heavy on the action, light on the story. Some like Crank 2: High Voltage (63%) and The Bank Job (79%) hit with critics. Most like The Killer Elite (25%), The Expendables (41%), and Death Race (43%)** fall well below average critical standards.
** The Statham list is long and populated with many movies like this. I just chose a few. Like I said, guy knows how his bread is buttered (with blood).
Director Boaz Yakin (Uptown Girls-13%, Remember the Titans-73%) gets to take a ride on the Statham mobile in the story of a little girl on the run from the New York City underworld. But really, who cares about the plot here? We're here for the action. Statham!!! The Rotten Watch for Safe is 31%.
.
The Raven
A poem: Once upon a Sunday dreary, while I pondered weak and weary
Over a trailer starring Cusack, apparently a total dor(k)
And I nodded, nearly napping, feeling there this little tapping
As if someone gently zapping Hollywood's creative store
Tis some piece of garbage, I muttered, this movie at my door
But I must watch this, then nothing more
Ah distinctly I remember, when James McTeigue helmed V for Vendetta (73%)
But now he's given us a lesser movie apparently made from lore
About a suspicious killer whose ideas come from filler
From stories strewn about Edgar's cutting room floor
This is really the idea, no seriously, I'm not lying, an oath I swore
It's called The Raven and nothing more.
And early reviews have it stinking, its Tomatometer score sinking
As a movie rotten and cliché'd almost to its very core
Turn your eyes away please read, watch something else I plead
You have no idea what these movie studios have in store
This movie looks completely awful, a total mess therefore
The Rotten Watch for The Raven is 24%.
.
The Pirates! Band of Misfits
Man Hollywood has gotten a ton of mileage out of pirates. We are a solid couple of hundred of years since the world saw a bunch of parrot-wearing, eye patch-rocking, peg leg walking, timber shivering, scourges of the high seas rocking and rolling looking for booty and whatnot. And yet every year there seems to be a flick about a pirate or two. For Hollywood, pirates just keep giving and giving. (Plus they're the inspiration for much of Johnny Depp's real life wardrobe choices, so there's that too.)
The Pirates! Band of Misfits is a 3D stop motion flick that appears to poke fun at every other movie made about the high seas, or at least Titanic which is good enough for me. Peter Lord, who also had success with Chicken Run (96%), helms this tale of the literally named Pirate Captain and his quest to win the much vaunted Pirate of the Year award. That's a prize to which we all should aspire.
This flick came out about a month ago in the UK and a bunch of positive reviews are already in. I won't count it on the Rotten resume because there's too much of a head start, but we'll throw out a guess anyway. The Rotten Watch for The Pirates! Band of Misfits is 90%.
.
This poll is no longer available.
Recapping last week:
A very solid week for the Rotten Watch as all three predictions came within ten percent which counts as a win, win and another win. Take a look:
The Lucky One (Predicted: 30% Actual: 21%)
Think Like a Man (Predicted: 57% Actual: 50%)
Chimpanzee (Predicted: 85% Actual: 77%)
That's an extremely strong showing across the board. I'll take it. Coming off the Three Stooges debacle we needed a little pick me up around these parts.
Next week there's a little movie about the Avengers coming out. No big deal. It's going to be a Rotten Week!
Doug began writing for CinemaBlend back when Terminator: The Sarah Connor Chronicles actually existed. Since then he's been writing This Rotten Week, predicting RottenTomatoes scores for movies you don't even remember for the better part of a decade. He can be found re-watching The Office for the infinity time.
Your Daily Blend of Entertainment News
Thank you for signing up to CinemaBlend. You will receive a verification email shortly.
There was a problem. Please refresh the page and try again.