This Rotten Week: Predicting John Carter, A Thousand Words and Silent House Reviews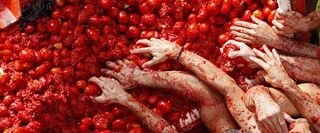 My post-Oscar hangover is just starting to wear off. Granted I didn't drink at all during the show, but the whole thing was just so weird and disjointed that I ended up feeling wasted. Billy Crystal's lypo-suction and Adam Sandler talking about "making movies" can have that effect on people. But what better way to dust off the cobwebs than Tim Riggins heading to Mars, Eddie Murphy shutting up and houses going quiet?
Just remember, I'm not reviewing these movies, but rather predicting where they'll end up on the Tomatometer. Let's take a look at what This Rotten Week has to offer.
John Carter
Honestly, when I first heard about John Carter, saw a shirtless Taylor Kitsch as the lead, checked out some screen shots, and basically read the summary, I thought this thing would fail miserably. Like just tank. A pessimist by nature (and nurture) I thought there were just too many things going against it. Kitsch never quite struck me as "leading man" material, Mars is so twenty years ago, for some reason Disney releasing this kind of film made me gag, and the whole production just appeared a teensy bit childish.
And maybe I shouldn't judge a flick by its glossy red, sort of Soviet Union-meets-celestial desert, cover, but some of skepticism is most likely warranted. The trailer presents a movie with 10,000 different things happening all at once including aliens that remind me a little too much of Jar Jar Binks, off-putting costumes, whips, Matrix-like jumping, and some visual effects that don't quite pass the sniff test. Granted, early reviews have come back strong but I need to go with my gut on this one. Something just seems completely off to me with this flick, and I get the feeling, once the mainstream media puts their eyeballs on the film, the score will dip, and dip and dip some more.
Director Andrew Stanton leaves behind the friendly confines of his dank, dark animation lair (WALL-E-96%, Finding Nemo-98%, and dude helped pen all the Toy Story's) to helm this interplanetary, sci-fi adventure. Adapted from the Edgar Rice Burroughs Barsoom, Stanton appears, by early critical accounts, to have made a live action film for the whole family, but remember my gut? It's big and I think the score falls significantly over the week as Kitsch, in all his pectoral glory, might not translate totally to "carrying a movie." The Rotten Watch for John Carter is 45%.
.
A Thousand Words
If I woke up one morning and found out I'd kick the bucket after speaking a thousand words, it's safe to say I'd be dead by the end of breakfast. As Mrs. Rotten Week will tell you, I'm exceptionally philosophical, witty and not at all annoying or patronizing in the early A.M. hours. Eddie Murphy on the other hand appears to be weaning himself out of talking over the course of one, dreadful and hackneyed looking movie.
To say this flick looks stupid is a knock against every stupid movie ever made. A Thousand Words looks like it aspires for stupidity while probably settling in on unwatchable.
When Eddie Murphy's character, a slick talking business man with questionable moral character, reneges on a handshake with a hip, young shaman, a magical tree grows in Murphy's backyard. The tree shed leaves for every word Murphy speaks. Hilarity is yearned for, but doesn't appear to ensue. In fact, this flick's only saving grace might be Eddie Murphy speaks less and less as the film goes on.
Director Brian Robbins has been down the Murphy rabbit hole before with films like Meet Dave (19%) and Norbit (9%) so presumably he knew what he was getting into. Another encouraging sign is the movie originally finished filming in 2008. For those without calendars, that was four years ago. Usually happens with critically acclaimed flicks. This thing is going to bomb. The Rotten Watch for A Thousand Words is 12%.
.
Silent House
I've got a one-year-old scampering around these Rotten offices so the idea of a "silent house" is really only something happening between 8PM (when she goes to bed) and 9PM when she wakes up again wanting to play and run around again. I'd even take this movie's version of a silent house (something in house trying to kill Elizabeth Olsen) if it meant just a little solitude for once. A guy can dream can't he?
To be honest, this flick looks legit scary. Like kind of terrifying. Shot "in real time," in Silent House Olsen's character is in a fight for her life to get out of the house and escape, well, I'm not really sure what or who is trying to get her. That's what makes it so freaking terrifying!
Husband and wife director team Chris Kentis and Laura Lau have some experience with a certain sort of crushing and nausea-inducing suspense having helmed Open Water (72%). Judging by what happened to the characters in that flick, it ain't looking good for Ashley and Mary Kate's younger sis. But though it probably won't end great for her, critics appear to enjoy the film with early reviews trending fairly positive. I think the score stays high. The Rotten Watch for Silent House is 68%.
.
Recapping last week:
Gross. Not a good week for the Rotten Watch as both my predictions were well wide of the mark.
The Lorax (Predicted: 79% Actual: 59%)
Project X (Predicted: 52% Actual: 29%)
These were significant swings and misses. I'm not shocked by Project X in that it is a teenager movie directed by adults and reviewed by a wide spectrum of "intellectuals". I should have seen the bad score coming. But The Lorax is a legitimate shocker. If anything, I thought I had gone too low with my prediction.
Next time around you better be ready to, be ready to, JUMP! It's going to be a Rotten Week!
Doug began writing for CinemaBlend back when Terminator: The Sarah Connor Chronicles actually existed. Since then he's been writing This Rotten Week, predicting RottenTomatoes scores for movies you don't even remember for the better part of a decade. He can be found re-watching The Office for the infinity time.