This Rotten Week: Predicting New Year's Eve And The Sitter Reviews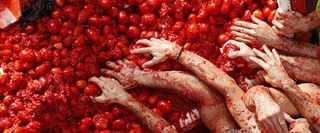 The Rotten Watch is back after taking some time to look back, reflect, and catch a quick breather from the endless movie onslaught. I need a clear mind when taking many of these flicks to task. But the batteries are recharged and its time to get back to work. This week the big ball drops and Jonah Hill joins the Babysitter's Club.
Just remember, I'm not reviewing these movies, but rather predicting where they'll end up on the Tomatometer. Let's take a look at what This Rotten Week has to offer.
New Year's Eve
I know there's a certain romanticism behind New Year's Eve with its supposed dawning of a new and better time, "clean slate" feeling, and glittery reminder of all that can be right with our lives if we just hit the reset button. The reality? New Years Eve is an over-hyped, corporate, hangover machine that begins with the best of intentions and devolves into a drunken, confetti-laden mess, highlighted by ill-advised tequila shots two hours after the ball dropped and the depressing realization that next year will be the same hellacious disaster as the last one.
So what's a movie studio to do? Hire Garry Marshall of course to give us a less-than-honest depiction of what this holiday is like for the young, gorgeous and unattached. Having already covered much of this ground with the most mind-numbing and soul-sucking of holidays (Valentine's Day-18%) he sets his crappy-movie-making sights on another celebrity mashup meant to give us all "hope" for 12/31/2011. Nice try Garry. Nice try.
I would appreciate these "bunch of small stories coming together" movies if the players weren't super-famous, model types who would never in a million years ever have trouble landing a boy/girlfriend. Without having to list all the celebrities getting paydays here let's just say the implausibility is off the charts. Josh Duhamel can't get a girl? Jessica Biel is starting a family? Ludacris is a cop? The only character with any believability is Jon Bon Jovi who plays a dude a lot like Jon Bon Jovi. The rest of it? A celeb camera and money grab, plain and simple. The Rotten Watch for New Year's Eve is, well, let's count it down, 20, 19, 18, 17%.
.
The Sitter
When I finally get a free moment and sit down to write an exhaustive history book about the Great American Silver Screen, Chapter 23 will most definitely be titled "1987-1991: The Golden Age of the Babysitter Movie". This timeframe is a no-brainer as it included the three greats: Uncle Buck, Adventures in Babysitting and Don't Tell Mom the Babysitter's Dead. That's a murderer's row of child negligence humor. Never have on screen children been subjected to more endangerment for the sake of comedy. A truly great time to be a babysitter in America. (The Golden Age was ushered out when Hulk Hogan gave us Mr. Nanny in 1993. Hey, it was good while it lasted.)
**Quick sidenote: don't type in "Babysitter Movies" into Google if your SafeSearch filter is turned off unless you want to be like me and have to spend ten minutes explaining to your wife why a whole host of babysitter-themed porn is up on the screen.
So I think its about time we reignite the babysitter medium and who better to do so than Jonah Hill? He's got the right snarky attitude, seeming dislike for kids, John Candy-esque body structure and "jokes on you" mentality like I want in my movie caregiver. Led by director David Gordon Green (Your Highness-26%, Pineapple Express-68%), Hill looks to have embraced the role for this flick about a down and out twenty something tasked with watching a bunch of weird kids in order to earn a few extra bucks. Green's movies don't hold much back and having the kids around appears to have emboldened the filmmaker to push the limits of adolescent acceptability on screen. That's perfect. It's a babysitter Renaissance! The Rotten Watch for The Sitter is 66%.
This poll is no longer available.
Nothing to recap from last week's look back on the year.
Next week, Alvin and the Chipmunks are back for some reason and Robert Downey Jr. solves some more mysteries. It's going to be a Rotten Week!
Doug began writing for CinemaBlend back when Terminator: The Sarah Connor Chronicles actually existed. Since then he's been writing This Rotten Week, predicting RottenTomatoes scores for movies you don't even remember for the better part of a decade. He can be found re-watching The Office for the infinity time.