Russell Crowe Is Ridley's Werewolf?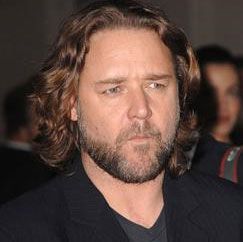 Yesterday we learned that Ridley Scott may be planning a werewolf movie, and now we have a line on who he could be tapping to star in it. Ready? It's pretty obvious. Russell Crowe.
The rumor of his involvement comes from the celebrity news syndicator WENN, where they claim Crowe is "set" to play the werewolf in the film. Crowe and Scott have of course, worked together numerous times. Russell has become a sort of Ridley Scott muse.
Bear in mind here that we don't even know if Scott is directing this werewolf project, only that he's recently purchased a werewolf script. That's it. It seems a bit early for Scott to lock in a cast for the film and if you wanted to start a fake rumor, rumoring Russell Crowe to be in a Ridley Scott movie is so obvious that it's hard not to believe it.
That said, it'd be easy to see Russell Crowe wolfed out and terrorizing young women. He does that already, doesn't he? Or is that just helpless hotel clerks? The man has a pretty convincing snarl. Russell Crowe in a hirsute seems like a natural fit.
Your Daily Blend of Entertainment News
Thank you for signing up to CinemaBlend. You will receive a verification email shortly.
There was a problem. Please refresh the page and try again.