SNL's Taran Killam On Board Drama Twelve Years A Slave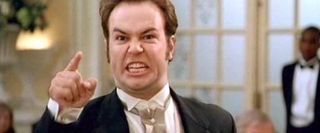 With Kristen Wiig, Andy Samberg and maybe even Jason Sudeikis all leaving the show, Taran Killam is set to take a much bigger role in the future of Saturday Night Live-- which is why he might want to get out there and make a movie before the work over there really starts. Deadline reports that Killam has taken a role in Twelve Years A Slave, the historical drama from Shame director Steve McQueen that will star Chiwetel Ejiofor as a free black man living in New York in 1853 who was kidnapped and sold into slavery for, well, 12 years.
Killam, true to his comedic background, will play the circus owner who abducts him, likely giving him a chance to establish a flamboyant character and make an impression without having a whole lot of screentime. He'll have to work pretty hard, though, to outshine his co-stars, who include Michael Fassbender, Brad Pitt, Paul Dano, Pariah star Adepero Oduye and the recently added Scoot McNairy and Ruth Negga. That report said McNairy would be playing the "shrewd circus worker" who schemes to kidnap Ejiofor's character, which sounds like the same character Killam is playing; it's possible that Killam has replaced McNairy already, but it sounds much more likely they'll be working together on their awful plan.
Twelve Years A Slave sounds so different from Steve McQueen's other films that it's hard to even know what to expect, beyond a lot of good acting and a horrifying snippet of history from America's past. Will Killam's character actually be comedic, or just over the top in a way only comedians can master? Will Ejiofor be giving the kind of stripped-bare performance that Fassbender gave in McQueen's first two films? The fact that I have this many questions, and the movie hasn't even started filming yet, probably says a lot about how fascinating I hope the final product will be.
Staff Writer at CinemaBlend
Your Daily Blend of Entertainment News
Thank you for signing up to CinemaBlend. You will receive a verification email shortly.
There was a problem. Please refresh the page and try again.