SXSW: Killer Joe Shocks, Safety Charms And Nature Calls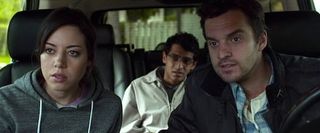 So now I can no longer claim I've never seen Gina Gershon felate a piece of Kentucky Fried Chicken.
That was one of the many surprises waiting as SXSW rolled on this weekend in Austin, Texas. Floated on, actually, as the rain refuses to let up. Thankfully, the movies that pull us out of the miserable downpours have been magnificent.
Colin Trevorrow's Safety Not Guaranteed has been my festival favorite, by far. The open-hearted, snappy and sarcastic crowd-pleaser tells the off-beat story of three Seattle journalists investigating a loner (Mark Duplass) who takes out a classified ad seeking a partner for a time-travel mission. As the relationships unfold and the film's strong emotional ties deepen, however, Safety become less about traveling through time and more about why individuals would choose to travel in the first place. Derek Connolly's pure, warm screenplay balances snark with sentiment and just enough suspense to keep its shady government subplot afloat. The entire cast is magnificent, each bringing totally different skills that boost Trevorrow's impossible romance, though New Girl co-star Jake Johnson gives the film's real breakout performance. FilmDistrict grabbed Safety and plans to release it in June. Put it on your radar.
The same goes for The Imposter, though I'm not sure if and when Bart Layton's gripping documentary about stolen identities will make its way to theaters. Truly earning the tag of "must be seen to be believed," Imposter recounts how a con artist detained by Spanish police passed himself off as a missing San Antonio teenager … going so far as to return to the States and fool the boy's family into believing they had retrieved their lost loved one. It sounds like a realistic take on the awful Clint Eastwood drama The Changeling. And while I would have appreciated some more closure to Layton's film, his skills behind the camera and in the editing room ensure that Imposter is the real deal.
I'm glad I made it to Todd Rohal's Nature Calls, if only because it gave me a chance to say goodbye to the enormous talent that was Patrice O'Neal. The late comedian received tons of applause and vocal support from an appreciative crowd at the Paramount Theatre as this comedy made its world premiere.
It helps that O'Neal steals virtually every scene of this story, which casts Patton Oswalt as a man-child trying to maintain his dying father's adoration for the Boy Scouts. Standing in his way is his childish older brother (Johnny Knoxville), a technology-worshipping bore who'd rather corrupt his adopted African son with television than take him camping in the woods. The Boy Scouts are such an easy target, I'm astonished they aren't lampooned more often. Nature aims for irreverent, but its loose narrative structure and rough improvisation works better in the hands of Oswalt, O'Neal and Rob Riggle – guys who do this for a living. There are two big laughs in Nature, a handful of worthy jokes from O'Neal, and too many missed opportunities when all is said and done.
Killer Joe, on the other hand, misses very few opportunities to shock its audience. Just ask the poor women who passed out in the lobby of the Paramount minutes after the brutal, disturbing and strangely cathartic conclusion.
William Friedkin directs Tracy Letts' aggressive white-trash soap opera with an urgency that belies his low-rent Texas location. Like virtually every film playing at SXSW this year, details are best kept under wraps, as the natural progression of this pitch-dark film noir are best left to be discovered by an audience member. I can say this: Matthew McConaughey's dedicated rom-com fan base won't appreciate what they find in Joe, which provokes cannibalistic feelings of anger and dread. The Coen Brothers would play this material for high comedy. Friedkin plays it more realistic than you'd assume, and that works in Joe's favor. And the aforementioned moment between Gershon and the fried chicken happens in Killer Joe, as part of the conclusion that's so strange, you wouldn't believe me if I described it here.
SXSW rolls on, and so does our coverage. I finally have time to sit down, write, and catch up with everything that I've absorbed at the fest. Keep following us. We'll have plenty more for you to explore, starting with this brand-new Killer Joe poster. Hungry for some chicken?
Sean O'Connell is a journalist and CinemaBlend's Managing Editor. He's frequently found on Twitter at @Sean_OConnell. ReelBlend cohost. A movie junkie who's Infatuated with comic-book films. Helped get the Snyder Cut released, then wrote a book about it.
Your Daily Blend of Entertainment News
Thank you for signing up to CinemaBlend. You will receive a verification email shortly.
There was a problem. Please refresh the page and try again.