Sam Rockwell Compares David Gordon Green's The Sitter To 48 Hrs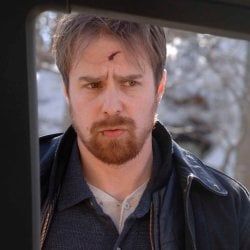 I had asked to interview Sam Rockwell for his new movie Conviction weeks ago, but when it came time for the interview to happen yesterday, the timing was uncanny. Not only had the news of Rockwell coming on board David Gordon Green's new comedy The Sitter just broken the day before, but the shoot was taking place on my block-- on my way to interview Rockwell I passed by the trailers and crew setting up for another day of the Brooklyn shoot of The Sitter.
Normally I wouldn't start an interview by asking about someone's next project, but the coincidence was so uncanny that I had to bring it up. Rockwell told me that the deal is "pretty much in order," and that "we're trying to work out dates" before he steps on to the set. He compared the movie to 48 Hrs., and said "I think it's gonna be a lot of fun." When I asked him if he wanted to work with Green on a comedy because the last film he did with the director, Snow Angels, was so damn depressing, Rockwell told me I was kinda right:
What you can't read there is how amused and somewhat relieved Rockwell sounded that his friend liked Gentlemen Broncos, a movie that was roundly hated even though Rockwell was really good in it. I know I'm not alone in being insanely excited to see what Rockwell--no stranger to batty comedy-- can bring for a director like Gordon Green, who in one year made the very touching Snow Angels and the completely loony Pineapple Express. Rockwell is set to play a drug dealer chasing down Jonah Hill's babysitter character in The Sitter; if they film on my block again and I see Rockwell, I'll report back with full details.
Check back later for more from my interview with Rockwell, about Conviction, doing research in prison, and the long string of actors-turned-directors he's worked with. The movie opens this Friday.
Your Daily Blend of Entertainment News
Staff Writer at CinemaBlend