Scott Rudin Throws Kate Winslet Under The Bus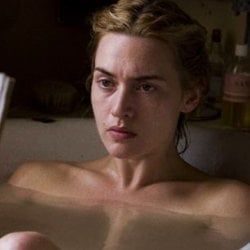 The Reader is one of those movies with Oscar written all over it-- Kate Winslet, a Holocaust theme, and a December 12 release date. But now one person seems intent on destroying all hope for it-- Scott Rudin, its producer. After battling incessantly with Harvey Weinstein over the movie's release date, Rudin, according to Variety, has taken his name off the film, leaving director Stephen Daldry to fend for himself.
The battle between the two got leaked to the press over the last few weeks through a series of e-mails between the two, with Rudin asking to delay the movie until 2009 and Weinstein insisting on the Dec. 12 release. Rudin didn't want Winslet competing against her own role in Revolutionary Road, and wanted to give Daldry more time to finish the movie. Weinstein, apparently with dollar signs clouding his vision, wanted the thing done now now now!
It really shouldn't be a surprise who won, given Weinstein's bullying reputation, but Rudin is on a career high after winning Best Picture last year with No Country for Old Men, and probably thought he could work some leverage out of that. No dice. Now the odds of The Reader being no good increase exponentially, and poor Winslet, a five-time bridesmaid for the Oscar, may just lose again because she's too much competition for herself.
Staff Writer at CinemaBlend
Your Daily Blend of Entertainment News
Thank you for signing up to CinemaBlend. You will receive a verification email shortly.
There was a problem. Please refresh the page and try again.