The Secret Good Dinosaur Easter Egg You Probably Missed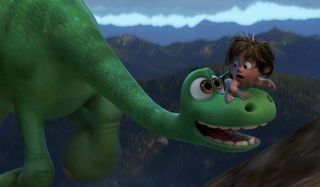 The Good Dinosaur was Pixar's first box office disappointment. Earning just $266.5 million against a $200 million budget, it ranks at the bottom of the studio's theatrical grosses. But, it's still a Pixar film, which means that there is plenty to enjoy about The Good Dinosaur, while it also included the same Easter Eggs that have popped up in their other films. In fact, there was one Good Dinosaur Easter Egg that managed to squeeze by most people, and I'm going to guess it slipped by you too. Check it out below.
"
This might be Pixar's sneakiest attempt yet to squeeze A113 into a finished film. Pixar die-hards out there will instantly know why Pixar repeatedly make a reference to A113 in their output. For those of you that don't know, this is a reference to the classroom used by Pixar's alumni of California Institute Of The Arts.
Pixar's devotion to including this in their films has led to it appearing as the license plate number on Andy's mom's cars in Toy Story and Toy Story 3, while in Toy Story 2 it was featured during an airport announcement for "LassetAir Flight A113." In A Bug's Life it's on the code on a cereal box, in Monsters, Inc. it can be read amidst the pillars, in Finding Nemo it's the model number of the camera used by P. Sherman of 42 Wallaby Way, and by this point you get the idea.
In fact, here's a handy video that points out every single time that A113 has popped up in a Pixar film, up to, but not including, Inside Out and The Good Dinosaur. FYI, in Inside Out it's the number of Riley's classroom.
It's unfortunate that The Good Dinosaur is destined to forever be remembered as Pixar's first failure, because it was one of the most gorgeous films of the year. Sure, its plot was lacking, and it ultimately failed to strike a chord with audiences the way Inside Out did to the tune of $856.1 million just a few months earlier, but I could have sat and looked at the visuals all day long.
Pixar hopes that this mini rut comes to an end in 2016, and I have a sneaky suspicion it will, because Finding Dory will be with us on June 17, 2016. Expect its sneaky homage to A113 to have been found on or before June 18.
Your Daily Blend of Entertainment News
Thank you for signing up to CinemaBlend. You will receive a verification email shortly.
There was a problem. Please refresh the page and try again.